Please enter a valid UK Address:
Chapter: 2 Sura: 179 Verse: O people of pure and clear wisdom! your very life lies in (the law of) equitable retaliation, (you have been so commanded) so that you may enjoy security....- Read the Verse/ The Holy Quran

Help Palastine! It takes 5 minutes to contact your MP please CLICK HERE TO CONTACT YOUR MP Now!
---
IQRA ACADEMY (Newington, Edinburgh)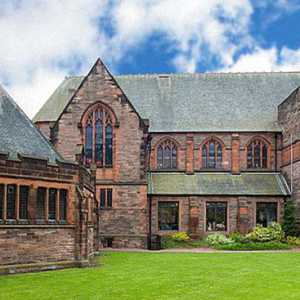 IQRA ACADEMY
ADDRESS: 10 East Suffolk Road, Newington, Edinburgh, EH16 5LD
TEL: 0131 667 7474 FAX: none GENDER: Male / Female TYPE: Masjid/Mosque
Data Accuracy: B- Well known masjid with plenty of corroborating data
Information
FOLLOWING : Sunni - Mainstream MANAGEMENT :
Bangladeshi and
Pakistani MASJID CAPACITY : 500
Other Masjid Names: IQRA Academy Edinburgh
View Charity No: SCO41986
Travel Information
Here you will find the local travel information on how to get to the Masjid/Mosque
List of Railway Stations close to the Masjid/Mosque, within 5 miles radius
| | | |
| --- | --- | --- |
| | Edinburgh Waverley Railway Station | Distance: 1.8378 |
| | Waverley (Edinburgh) Railway Station | Distance: 1.8378 |
Masjid/Mosque Weather Report
Edinburgh Midlothian UK
2021-12-07 6:19

Temperature
2 ℃ (35.6 ℉)
Wind
9.4mph (15.1kpm) Miles Per Hour
270 Wind Degree
W Wind Direction
10.5mph (16.9kpm) Gust Miles Per Hour
Weather Report
Today on December 7, 2021 the tempreture will be 2℃ (35.6 ℉), when you go outside the weather will feel like -0.9 ℃ (30.5 ℉) the wind will be 9.4mph (15.1kpm) and humidity will be 93
Notes / Additional information
Premises was formerly:
Church
Summary
-Prayer area for Men & Women
-Facilities for sisters
-Located in Newington
-Ample free parking
-Classroom facilities for various uses
-Multi-purpose uses for the community
Registered Charity No. SCO41986
Masjid Prayer Timetable
In Islam muslims are required to prayer five times a day, each prayer can be measured in units and every prayer comrpomised with different set of units depending on the time of prayer, click here to learn more about how we calculate the prayer times for the masjids
| Date | Hijri | Fajar | Sunrise | Dhuhr | Asr | Sunset | Maghrib | Isha |
| --- | --- | --- | --- | --- | --- | --- | --- | --- |
| 01 Dec 2021 | 25-04-1443 | 06:01 (GMT) | 08:19 (GMT) | 12:02 (GMT) | 13:29 (GMT) | 15:44 (GMT) | 15:44 (GMT) | 17:54 (GMT) |
| 02 Dec 2021 | 26-04-1443 | 06:03 (GMT) | 08:21 (GMT) | 12:02 (GMT) | 13:28 (GMT) | 15:43 (GMT) | 15:43 (GMT) | 17:54 (GMT) |
| 03 Dec 2021 | 27-04-1443 | 06:04 (GMT) | 08:22 (GMT) | 12:03 (GMT) | 13:28 (GMT) | 15:42 (GMT) | 15:42 (GMT) | 17:54 (GMT) |
| 04 Dec 2021 | 28-04-1443 | 06:05 (GMT) | 08:24 (GMT) | 12:03 (GMT) | 13:27 (GMT) | 15:41 (GMT) | 15:41 (GMT) | 17:53 (GMT) |
| 05 Dec 2021 | 29-04-1443 | 06:06 (GMT) | 08:25 (GMT) | 12:03 (GMT) | 13:27 (GMT) | 15:41 (GMT) | 15:41 (GMT) | 17:53 (GMT) |
| 06 Dec 2021 | 01-05-1443 | 06:07 (GMT) | 08:27 (GMT) | 12:04 (GMT) | 13:27 (GMT) | 15:40 (GMT) | 15:40 (GMT) | 17:53 (GMT) |
| 07 Dec 2021 | 02-05-1443 | 06:08 (GMT) | 08:28 (GMT) | 12:04 (GMT) | 13:26 (GMT) | 15:40 (GMT) | 15:40 (GMT) | 17:52 (GMT) |
| 08 Dec 2021 | 03-05-1443 | 06:09 (GMT) | 08:30 (GMT) | 12:05 (GMT) | 13:26 (GMT) | 15:39 (GMT) | 15:39 (GMT) | 17:52 (GMT) |
| 09 Dec 2021 | 04-05-1443 | 06:10 (GMT) | 08:31 (GMT) | 12:05 (GMT) | 13:26 (GMT) | 15:39 (GMT) | 15:39 (GMT) | 17:52 (GMT) |
| 10 Dec 2021 | 05-05-1443 | 06:11 (GMT) | 08:32 (GMT) | 12:06 (GMT) | 13:26 (GMT) | 15:39 (GMT) | 15:39 (GMT) | 17:52 (GMT) |
| 11 Dec 2021 | 06-05-1443 | 06:12 (GMT) | 08:33 (GMT) | 12:06 (GMT) | 13:26 (GMT) | 15:38 (GMT) | 15:38 (GMT) | 17:52 (GMT) |
| 12 Dec 2021 | 07-05-1443 | 06:13 (GMT) | 08:34 (GMT) | 12:06 (GMT) | 13:26 (GMT) | 15:38 (GMT) | 15:38 (GMT) | 17:52 (GMT) |
| 13 Dec 2021 | 08-05-1443 | 06:14 (GMT) | 08:36 (GMT) | 12:07 (GMT) | 13:26 (GMT) | 15:38 (GMT) | 15:38 (GMT) | 17:52 (GMT) |
| 14 Dec 2021 | 09-05-1443 | 06:15 (GMT) | 08:37 (GMT) | 12:07 (GMT) | 13:26 (GMT) | 15:38 (GMT) | 15:38 (GMT) | 17:52 (GMT) |
| 15 Dec 2021 | 10-05-1443 | 06:16 (GMT) | 08:38 (GMT) | 12:08 (GMT) | 13:26 (GMT) | 15:38 (GMT) | 15:38 (GMT) | 17:52 (GMT) |
| 16 Dec 2021 | 11-05-1443 | 06:17 (GMT) | 08:38 (GMT) | 12:08 (GMT) | 13:26 (GMT) | 15:38 (GMT) | 15:38 (GMT) | 17:53 (GMT) |
| 17 Dec 2021 | 12-05-1443 | 06:17 (GMT) | 08:39 (GMT) | 12:09 (GMT) | 13:26 (GMT) | 15:38 (GMT) | 15:38 (GMT) | 17:53 (GMT) |
| 18 Dec 2021 | 13-05-1443 | 06:18 (GMT) | 08:40 (GMT) | 12:09 (GMT) | 13:26 (GMT) | 15:39 (GMT) | 15:39 (GMT) | 17:53 (GMT) |
| 19 Dec 2021 | 14-05-1443 | 06:19 (GMT) | 08:41 (GMT) | 12:10 (GMT) | 13:27 (GMT) | 15:39 (GMT) | 15:39 (GMT) | 17:54 (GMT) |
| 20 Dec 2021 | 15-05-1443 | 06:19 (GMT) | 08:41 (GMT) | 12:10 (GMT) | 13:27 (GMT) | 15:39 (GMT) | 15:39 (GMT) | 17:54 (GMT) |
| 21 Dec 2021 | 16-05-1443 | 06:20 (GMT) | 08:42 (GMT) | 12:11 (GMT) | 13:27 (GMT) | 15:40 (GMT) | 15:40 (GMT) | 17:54 (GMT) |
| 22 Dec 2021 | 17-05-1443 | 06:20 (GMT) | 08:42 (GMT) | 12:11 (GMT) | 13:28 (GMT) | 15:40 (GMT) | 15:40 (GMT) | 17:55 (GMT) |
| 23 Dec 2021 | 18-05-1443 | 06:21 (GMT) | 08:43 (GMT) | 12:12 (GMT) | 13:28 (GMT) | 15:41 (GMT) | 15:41 (GMT) | 17:56 (GMT) |
| 24 Dec 2021 | 19-05-1443 | 06:21 (GMT) | 08:43 (GMT) | 12:12 (GMT) | 13:29 (GMT) | 15:42 (GMT) | 15:42 (GMT) | 17:56 (GMT) |
| 25 Dec 2021 | 20-05-1443 | 06:22 (GMT) | 08:43 (GMT) | 12:13 (GMT) | 13:30 (GMT) | 15:42 (GMT) | 15:42 (GMT) | 17:57 (GMT) |
| 26 Dec 2021 | 21-05-1443 | 06:22 (GMT) | 08:44 (GMT) | 12:13 (GMT) | 13:30 (GMT) | 15:43 (GMT) | 15:43 (GMT) | 17:58 (GMT) |
| 27 Dec 2021 | 22-05-1443 | 06:22 (GMT) | 08:44 (GMT) | 12:14 (GMT) | 13:31 (GMT) | 15:44 (GMT) | 15:44 (GMT) | 17:58 (GMT) |
| 28 Dec 2021 | 23-05-1443 | 06:22 (GMT) | 08:44 (GMT) | 12:14 (GMT) | 13:32 (GMT) | 15:45 (GMT) | 15:45 (GMT) | 17:59 (GMT) |
| 29 Dec 2021 | 24-05-1443 | 06:22 (GMT) | 08:44 (GMT) | 12:15 (GMT) | 13:32 (GMT) | 15:46 (GMT) | 15:46 (GMT) | 18:00 (GMT) |
| 30 Dec 2021 | 25-05-1443 | 06:23 (GMT) | 08:44 (GMT) | 12:15 (GMT) | 13:33 (GMT) | 15:47 (GMT) | 15:47 (GMT) | 18:01 (GMT) |
| 31 Dec 2021 | 26-05-1443 | 06:23 (GMT) | 08:44 (GMT) | 12:16 (GMT) | 13:34 (GMT) | 15:48 (GMT) | 15:48 (GMT) | 18:02 (GMT) |
Local Parliamentary Information
The Local MP for this Masjid is Tommy Sheppard MP for Edinburgh East

You Local MP is part of the Scottish National Party Party
Your can contact your Local MP on: tommy.sheppard.mp@parliament.uk, or telephone them on: 020 7219 6653, 01316 618023