Please enter a valid UK Address:
Chapter: 2 Sura: 100 Verse: Is it not a fact that every time they made a covenant, some of them cast it away? Rather most of them have no (true) faith....- Read the Verse/ The Holy Quran

Help Palastine! It takes 5 minutes to contact your MP please CLICK HERE TO CONTACT YOUR MP Now!
---
Madrassa Zia-ul-Quran Trust
Madrassa Zia-ul-Quran Trust (Pollokshields, Glasgow)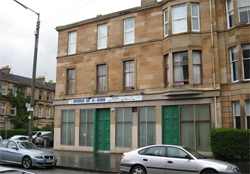 Madrassa Zia-ul-Quran Trust
ADDRESS: 257 Kenmure Street, Pollokshields, Glasgow, Strathclyde, G41 2QX
TEL: 0141 423 8001 (Muslim Directory entry), 0141 429 2483 (Sal@am website entry) FAX: none GENDER: Male / Female TYPE: Masjid/Mosque
Data Accuracy: A- Reasonably recent first hand knowledge of the masjid
Information
FOLLOWING : Shadhili Tariqah, Shaykh Nuh MANAGEMENT :
Pakistani MASJID CAPACITY : 500
Travel Information
Here you will find the local travel information on how to get to the Masjid/Mosque
List of Railway Stations close to the Masjid/Mosque, within 5 miles radius
| | | |
| --- | --- | --- |
| | Pollokshields West Railway Station | Distance: 0.1587 |
| | Pollokshields East Railway Station | Distance: 0.1966 |
| | Queen's Park (Glasgow) Railway Station | Distance: 0.3811 |
| | Crossmyloof Railway Station | Distance: 0.6003 |
| | Maxwell Park Railway Station | Distance: 0.6011 |
| | Crosshill Railway Station | Distance: 0.6954 |
| | Mount Florida Railway Station | Distance: 1.0105 |
| | Shawlands Railway Station | Distance: 1.0116 |
| | Pollokshaws East Railway Station | Distance: 1.0828 |
| | Dumbreck Railway Station | Distance: 1.1538 |
| | Langside Railway Station | Distance: 1.2797 |
| | Anderston Railway Station | Distance: 1.4731 |
| | Pollokshaws West Railway Station | Distance: 1.5018 |
| | Glasgow Central Railway Station | Distance: 1.5245 |
| | Cathays Railway Station | Distance: 1.5636 |
| | Exhibition Centre (Glasgow) Railway Station | Distance: 1.6188 |
| | Argyle Street Railway Station | Distance: 1.6418 |
| | King's Park Railway Station | Distance: 1.674 |
| | Charing Cross (Glasgow) Railway Station | Distance: 1.7758 |
| | Glasgow Queen Street Railway Station | Distance: 1.8415 |
| | High Street Glasgow Railway Station | Distance: 1.9268 |
Masjid/Mosque Weather Report
Glasgow Lanarkshire UK
2021-10-21 21:27

Temperature
7 ℃ (44.6 ℉)
Wind
12.5mph (20.2kpm) Miles Per Hour
220 Wind Degree
SW Wind Direction
20.4mph (32.8kpm) Gust Miles Per Hour
Weather Report
Today on October 21, 2021 the tempreture will be 7℃ (44.6 ℉), when you go outside the weather will feel like 3.5 ℃ (38.4 ℉) the wind will be 12.5mph (20.2kpm) and humidity will be 87
Masjid Prayer Timetable
In Islam muslims are required to prayer five times a day, each prayer can be measured in units and every prayer comrpomised with different set of units depending on the time of prayer, click here to learn more about how we calculate the prayer times for the masjids
| Date | Hijri | Fajar | Sunrise | Dhuhr | Asr | Sunset | Maghrib | Isha |
| --- | --- | --- | --- | --- | --- | --- | --- | --- |
| 01 Oct 2021 | 23-02-1443 | 05:15 (BST) | 07:20 (BST) | 13:07 (BST) | 16:06 (BST) | 18:52 (BST) | 18:52 (BST) | 20:49 (BST) |
| 02 Oct 2021 | 24-02-1443 | 05:18 (BST) | 07:22 (BST) | 13:06 (BST) | 16:04 (BST) | 18:49 (BST) | 18:49 (BST) | 20:46 (BST) |
| 03 Oct 2021 | 25-02-1443 | 05:20 (BST) | 07:24 (BST) | 13:06 (BST) | 16:02 (BST) | 18:47 (BST) | 18:47 (BST) | 20:43 (BST) |
| 04 Oct 2021 | 26-02-1443 | 05:22 (BST) | 07:26 (BST) | 13:06 (BST) | 16:00 (BST) | 18:44 (BST) | 18:44 (BST) | 20:41 (BST) |
| 05 Oct 2021 | 27-02-1443 | 05:24 (BST) | 07:28 (BST) | 13:05 (BST) | 15:58 (BST) | 18:42 (BST) | 18:42 (BST) | 20:38 (BST) |
| 06 Oct 2021 | 28-02-1443 | 05:26 (BST) | 07:30 (BST) | 13:05 (BST) | 15:56 (BST) | 18:39 (BST) | 18:39 (BST) | 20:35 (BST) |
| 07 Oct 2021 | 29-02-1443 | 05:28 (BST) | 07:32 (BST) | 13:05 (BST) | 15:55 (BST) | 18:36 (BST) | 18:36 (BST) | 20:33 (BST) |
| 08 Oct 2021 | 01-03-1443 | 05:31 (BST) | 07:34 (BST) | 13:05 (BST) | 15:53 (BST) | 18:34 (BST) | 18:34 (BST) | 20:30 (BST) |
| 09 Oct 2021 | 02-03-1443 | 05:33 (BST) | 07:36 (BST) | 13:04 (BST) | 15:51 (BST) | 18:31 (BST) | 18:31 (BST) | 20:27 (BST) |
| 10 Oct 2021 | 03-03-1443 | 05:35 (BST) | 07:38 (BST) | 13:04 (BST) | 15:49 (BST) | 18:29 (BST) | 18:29 (BST) | 20:25 (BST) |
| 11 Oct 2021 | 04-03-1443 | 05:37 (BST) | 07:40 (BST) | 13:04 (BST) | 15:47 (BST) | 18:26 (BST) | 18:26 (BST) | 20:22 (BST) |
| 12 Oct 2021 | 05-03-1443 | 05:39 (BST) | 07:42 (BST) | 13:04 (BST) | 15:45 (BST) | 18:24 (BST) | 18:24 (BST) | 20:20 (BST) |
| 13 Oct 2021 | 06-03-1443 | 05:41 (BST) | 07:44 (BST) | 13:03 (BST) | 15:43 (BST) | 18:21 (BST) | 18:21 (BST) | 20:17 (BST) |
| 14 Oct 2021 | 07-03-1443 | 05:43 (BST) | 07:46 (BST) | 13:03 (BST) | 15:41 (BST) | 18:19 (BST) | 18:19 (BST) | 20:15 (BST) |
| 15 Oct 2021 | 08-03-1443 | 05:45 (BST) | 07:48 (BST) | 13:03 (BST) | 15:39 (BST) | 18:16 (BST) | 18:16 (BST) | 20:12 (BST) |
| 16 Oct 2021 | 09-03-1443 | 05:47 (BST) | 07:50 (BST) | 13:03 (BST) | 15:37 (BST) | 18:14 (BST) | 18:14 (BST) | 20:10 (BST) |
| 17 Oct 2021 | 10-03-1443 | 05:49 (BST) | 07:52 (BST) | 13:02 (BST) | 15:35 (BST) | 18:11 (BST) | 18:11 (BST) | 20:08 (BST) |
| 18 Oct 2021 | 11-03-1443 | 05:51 (BST) | 07:54 (BST) | 13:02 (BST) | 15:34 (BST) | 18:09 (BST) | 18:09 (BST) | 20:05 (BST) |
| 19 Oct 2021 | 12-03-1443 | 05:53 (BST) | 07:57 (BST) | 13:02 (BST) | 15:32 (BST) | 18:06 (BST) | 18:06 (BST) | 20:03 (BST) |
| 20 Oct 2021 | 13-03-1443 | 05:55 (BST) | 07:59 (BST) | 13:02 (BST) | 15:30 (BST) | 18:04 (BST) | 18:04 (BST) | 20:01 (BST) |
| 21 Oct 2021 | 14-03-1443 | 05:57 (BST) | 08:01 (BST) | 13:02 (BST) | 15:28 (BST) | 18:02 (BST) | 18:02 (BST) | 19:58 (BST) |
| 22 Oct 2021 | 15-03-1443 | 05:59 (BST) | 08:03 (BST) | 13:02 (BST) | 15:26 (BST) | 17:59 (BST) | 17:59 (BST) | 19:56 (BST) |
| 23 Oct 2021 | 16-03-1443 | 06:01 (BST) | 08:05 (BST) | 13:01 (BST) | 15:24 (BST) | 17:57 (BST) | 17:57 (BST) | 19:54 (BST) |
| 24 Oct 2021 | 17-03-1443 | 06:03 (BST) | 08:07 (BST) | 13:01 (BST) | 15:23 (BST) | 17:54 (BST) | 17:54 (BST) | 19:52 (BST) |
| 25 Oct 2021 | 18-03-1443 | 06:04 (BST) | 08:09 (BST) | 13:01 (BST) | 15:21 (BST) | 17:52 (BST) | 17:52 (BST) | 19:50 (BST) |
| 26 Oct 2021 | 19-03-1443 | 06:06 (BST) | 08:11 (BST) | 13:01 (BST) | 15:19 (BST) | 17:50 (BST) | 17:50 (BST) | 19:48 (BST) |
| 27 Oct 2021 | 20-03-1443 | 06:08 (BST) | 08:13 (BST) | 13:01 (BST) | 15:17 (BST) | 17:48 (BST) | 17:48 (BST) | 19:45 (BST) |
| 28 Oct 2021 | 21-03-1443 | 06:10 (BST) | 08:15 (BST) | 13:01 (BST) | 15:16 (BST) | 17:45 (BST) | 17:45 (BST) | 19:43 (BST) |
| 29 Oct 2021 | 22-03-1443 | 06:12 (BST) | 08:17 (BST) | 13:01 (BST) | 15:14 (BST) | 17:43 (BST) | 17:43 (BST) | 19:41 (BST) |
| 30 Oct 2021 | 23-03-1443 | 06:14 (BST) | 08:20 (BST) | 13:01 (BST) | 15:12 (BST) | 17:41 (BST) | 17:41 (BST) | 19:40 (BST) |
| 31 Oct 2021 | 24-03-1443 | 05:16 (GMT) | 07:22 (GMT) | 12:01 (GMT) | 14:10 (GMT) | 16:39 (GMT) | 16:39 (GMT) | 18:38 (GMT) |
Local Parliamentary Information
The Local MP for this Masjid is Alison Thewliss MP for Glasgow Central

You Local MP is part of the Scottish National Party Party
Your can contact your Local MP on: alison.thewliss.mp@parliament.uk, alison.thewliss.mp@parliament.uk or telephone them on: 020 7219 6447, 0141 552 7117