Please enter a valid UK Address:
Chapter: 2 Sura: 220 Verse: Upon this world and the Hereafter. And they ask you concerning the orphans. Say, `To set (their affairs) right (keeping in view the promotion of their welfare) is (an act of great)...- Read the Verse/ The Holy Quran

Help Palastine! It takes 5 minutes to contact your MP please CLICK HERE TO CONTACT YOUR MP Now!
---
Leeds University Union Islamic Society
Leeds University Union Islamic Society (Leeds, West Yorkshire)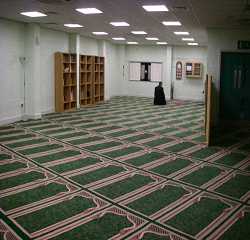 Leeds University Union Islamic Society
ADDRESS: University of Leeds, Clarendon Way, Woodhouse Lane, Leeds, West Yorkshire, LS2 9JT
TEL: none FAX: none GENDER: Male / Female TYPE: Student Islamic Society
Data Accuracy: A- Reasonably recent first hand knowledge of the masjid
Information
FOLLOWING : Unknown MANAGEMENT :
Students MASJID CAPACITY : 300
Other Masjid Names: The Green Room
Photo Gallery
Travel Information
Here you will find the local travel information on how to get to the Masjid/Mosque
List of Railway Stations close to the Masjid/Mosque, within 5 miles radius
| | | |
| --- | --- | --- |
| | Leeds Railway Station | Distance: 0.9714 |
| | Burgess Hill Railway Station | Distance: 1.0881 |
| | Headcorn Railway Station | Distance: 1.8171 |
Masjid/Mosque Weather Report
Leeds West Yorkshire UK
2022-01-28 9:40

Temperature
4 ℃ (39.2 ℉)
Wind
4.3mph (6.8kpm) Miles Per Hour
160 Wind Degree
SSE Wind Direction
12.5mph (20.2kpm) Gust Miles Per Hour
Weather Report
Today on January 28, 2022 the tempreture will be 4℃ (39.2 ℉), when you go outside the weather will feel like 1.1 ℃ (34.1 ℉) the wind will be 4.3mph (6.8kpm) and humidity will be 100
Notes / Additional information
Mosque Notes : Email: info@leedsisoc.com

Further Notes: it holds up to 300 people and we have full wudu washing facilities and a separate area for sisters upstairs which can hold about 50 people

The prayer room is more closer to Leeds General Infirmary Jubilee Wing and is right behind the new gym called the EDGE

Website: http://leedsisoc.com/green-room
Masjid Prayer Timetable
In Islam muslims are required to prayer five times a day, each prayer can be measured in units and every prayer comrpomised with different set of units depending on the time of prayer, click here to learn more about how we calculate the prayer times for the masjids
| Date | Hijri | Fajar | Sunrise | Dhuhr | Asr | Sunset | Maghrib | Isha |
| --- | --- | --- | --- | --- | --- | --- | --- | --- |
| 01 Jan 2022 | 27-05-1443 | 06:12 (GMT) | 08:24 (GMT) | 12:10 (GMT) | 13:40 (GMT) | 15:56 (GMT) | 15:56 (GMT) | 18:00 (GMT) |
| 02 Jan 2022 | 28-05-1443 | 06:12 (GMT) | 08:24 (GMT) | 12:10 (GMT) | 13:41 (GMT) | 15:57 (GMT) | 15:57 (GMT) | 18:01 (GMT) |
| 03 Jan 2022 | 29-05-1443 | 06:12 (GMT) | 08:24 (GMT) | 12:11 (GMT) | 13:42 (GMT) | 15:58 (GMT) | 15:58 (GMT) | 18:02 (GMT) |
| 04 Jan 2022 | 30-05-1443 | 06:12 (GMT) | 08:23 (GMT) | 12:11 (GMT) | 13:43 (GMT) | 15:59 (GMT) | 15:59 (GMT) | 18:03 (GMT) |
| 05 Jan 2022 | 01-06-1443 | 06:12 (GMT) | 08:23 (GMT) | 12:12 (GMT) | 13:44 (GMT) | 16:01 (GMT) | 16:01 (GMT) | 18:05 (GMT) |
| 06 Jan 2022 | 02-06-1443 | 06:12 (GMT) | 08:22 (GMT) | 12:12 (GMT) | 13:45 (GMT) | 16:02 (GMT) | 16:02 (GMT) | 18:06 (GMT) |
| 07 Jan 2022 | 03-06-1443 | 06:12 (GMT) | 08:22 (GMT) | 12:12 (GMT) | 13:46 (GMT) | 16:03 (GMT) | 16:03 (GMT) | 18:07 (GMT) |
| 08 Jan 2022 | 04-06-1443 | 06:11 (GMT) | 08:21 (GMT) | 12:13 (GMT) | 13:47 (GMT) | 16:05 (GMT) | 16:05 (GMT) | 18:08 (GMT) |
| 09 Jan 2022 | 05-06-1443 | 06:11 (GMT) | 08:21 (GMT) | 12:13 (GMT) | 13:48 (GMT) | 16:06 (GMT) | 16:06 (GMT) | 18:09 (GMT) |
| 10 Jan 2022 | 06-06-1443 | 06:11 (GMT) | 08:20 (GMT) | 12:14 (GMT) | 13:49 (GMT) | 16:08 (GMT) | 16:08 (GMT) | 18:10 (GMT) |
| 11 Jan 2022 | 07-06-1443 | 06:10 (GMT) | 08:19 (GMT) | 12:14 (GMT) | 13:51 (GMT) | 16:09 (GMT) | 16:09 (GMT) | 18:12 (GMT) |
| 12 Jan 2022 | 08-06-1443 | 06:10 (GMT) | 08:19 (GMT) | 12:15 (GMT) | 13:52 (GMT) | 16:11 (GMT) | 16:11 (GMT) | 18:13 (GMT) |
| 13 Jan 2022 | 09-06-1443 | 06:09 (GMT) | 08:18 (GMT) | 12:15 (GMT) | 13:53 (GMT) | 16:13 (GMT) | 16:13 (GMT) | 18:14 (GMT) |
| 14 Jan 2022 | 10-06-1443 | 06:09 (GMT) | 08:17 (GMT) | 12:15 (GMT) | 13:54 (GMT) | 16:14 (GMT) | 16:14 (GMT) | 18:16 (GMT) |
| 15 Jan 2022 | 11-06-1443 | 06:08 (GMT) | 08:16 (GMT) | 12:16 (GMT) | 13:56 (GMT) | 16:16 (GMT) | 16:16 (GMT) | 18:17 (GMT) |
| 16 Jan 2022 | 12-06-1443 | 06:07 (GMT) | 08:15 (GMT) | 12:16 (GMT) | 13:57 (GMT) | 16:18 (GMT) | 16:18 (GMT) | 18:18 (GMT) |
| 17 Jan 2022 | 13-06-1443 | 06:07 (GMT) | 08:14 (GMT) | 12:16 (GMT) | 13:59 (GMT) | 16:19 (GMT) | 16:19 (GMT) | 18:20 (GMT) |
| 18 Jan 2022 | 14-06-1443 | 06:06 (GMT) | 08:13 (GMT) | 12:17 (GMT) | 14:00 (GMT) | 16:21 (GMT) | 16:21 (GMT) | 18:21 (GMT) |
| 19 Jan 2022 | 15-06-1443 | 06:05 (GMT) | 08:12 (GMT) | 12:17 (GMT) | 14:01 (GMT) | 16:23 (GMT) | 16:23 (GMT) | 18:23 (GMT) |
| 20 Jan 2022 | 16-06-1443 | 06:04 (GMT) | 08:10 (GMT) | 12:17 (GMT) | 14:03 (GMT) | 16:25 (GMT) | 16:25 (GMT) | 18:24 (GMT) |
| 21 Jan 2022 | 17-06-1443 | 06:03 (GMT) | 08:09 (GMT) | 12:18 (GMT) | 14:04 (GMT) | 16:27 (GMT) | 16:27 (GMT) | 18:26 (GMT) |
| 22 Jan 2022 | 18-06-1443 | 06:02 (GMT) | 08:08 (GMT) | 12:18 (GMT) | 14:06 (GMT) | 16:28 (GMT) | 16:28 (GMT) | 18:27 (GMT) |
| 23 Jan 2022 | 19-06-1443 | 06:01 (GMT) | 08:07 (GMT) | 12:18 (GMT) | 14:07 (GMT) | 16:30 (GMT) | 16:30 (GMT) | 18:29 (GMT) |
| 24 Jan 2022 | 20-06-1443 | 06:00 (GMT) | 08:05 (GMT) | 12:18 (GMT) | 14:09 (GMT) | 16:32 (GMT) | 16:32 (GMT) | 18:30 (GMT) |
| 25 Jan 2022 | 21-06-1443 | 05:59 (GMT) | 08:04 (GMT) | 12:19 (GMT) | 14:10 (GMT) | 16:34 (GMT) | 16:34 (GMT) | 18:32 (GMT) |
| 26 Jan 2022 | 22-06-1443 | 05:58 (GMT) | 08:02 (GMT) | 12:19 (GMT) | 14:12 (GMT) | 16:36 (GMT) | 16:36 (GMT) | 18:33 (GMT) |
| 27 Jan 2022 | 23-06-1443 | 05:57 (GMT) | 08:01 (GMT) | 12:19 (GMT) | 14:13 (GMT) | 16:38 (GMT) | 16:38 (GMT) | 18:35 (GMT) |
| 28 Jan 2022 | 24-06-1443 | 05:56 (GMT) | 07:59 (GMT) | 12:19 (GMT) | 14:15 (GMT) | 16:40 (GMT) | 16:40 (GMT) | 18:36 (GMT) |
| 29 Jan 2022 | 25-06-1443 | 05:55 (GMT) | 07:58 (GMT) | 12:19 (GMT) | 14:16 (GMT) | 16:42 (GMT) | 16:42 (GMT) | 18:38 (GMT) |
| 30 Jan 2022 | 26-06-1443 | 05:53 (GMT) | 07:56 (GMT) | 12:19 (GMT) | 14:18 (GMT) | 16:44 (GMT) | 16:44 (GMT) | 18:40 (GMT) |
| 31 Jan 2022 | 27-06-1443 | 05:52 (GMT) | 07:54 (GMT) | 12:20 (GMT) | 14:20 (GMT) | 16:46 (GMT) | 16:46 (GMT) | 18:41 (GMT) |
Local Parliamentary Information
The Local MP for this Masjid is Rt Hon Hilary Benn MP for Leeds Central

You Local MP is part of the Labour Party
Your can contact your Local MP on: boxj@parliament.uk, bennh@parliament.uk or telephone them on: 0113 244 1097, 020 7219 5770