Please enter a valid UK Address:
Chapter: 2 Sura: 63 Verse: And (recall, O Children of Israel!) when We took a covenant from you, (and it was the time when you were at the foot of Sinai), with (the summits of) the Mount towering above you (...- Read the Verse/ The Holy Quran

Help Palastine! It takes 5 minutes to contact your MP please CLICK HERE TO CONTACT YOUR MP Now!
---
Jamiyat Tabligh ul Islam (Lidgett Green, Bradford, West Yorkshire)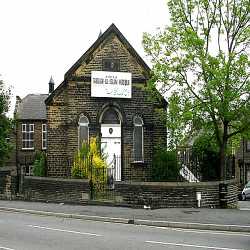 Jamiyat Tabligh ul Islam
ADDRESS: Northside Terrace, Lidgett Green, Bradford, West Yorkshire, BD7 2PB
TEL: none FAX: none GENDER: Unknown TYPE: Masjid/Mosque
Data Accuracy: A- Reasonably recent first hand knowledge of the masjid
Information
FOLLOWING : Sufi - Bareilvi - Qadria Naushahia MANAGEMENT :
Pakistani MASJID CAPACITY : 100
Other Masjid Names: Jami'at Tabligh ul Islam
Travel Information
Here you will find the local travel information on how to get to the Masjid/Mosque
List of Railway Stations close to the Masjid/Mosque, within 5 miles radius
| | | |
| --- | --- | --- |
| | Bradford Forster Square Railway Station | Distance: 1.5261 |
| | Bradford Interchange Railway Station | Distance: 1.6744 |
Masjid/Mosque Weather Report
Bradford West Yorkshire UK
2022-01-28 15:37
Temperature
7 ℃ (44.6 ℉)
Wind
17.4mph (28.1kpm) Miles Per Hour
240 Wind Degree
WSW Wind Direction
17mph (27.4kpm) Gust Miles Per Hour
Weather Report
Today on January 28, 2022 the tempreture will be 7℃ (44.6 ℉), when you go outside the weather will feel like 3.5 ℃ (38.3 ℉) the wind will be 17.4mph (28.1kpm) and humidity will be 93
Masjid Prayer Timetable
In Islam muslims are required to prayer five times a day, each prayer can be measured in units and every prayer comrpomised with different set of units depending on the time of prayer, click here to learn more about how we calculate the prayer times for the masjids
| Date | Hijri | Fajar | Sunrise | Dhuhr | Asr | Sunset | Maghrib | Isha |
| --- | --- | --- | --- | --- | --- | --- | --- | --- |
| 01 Jan 2022 | 27-05-1443 | 06:13 (GMT) | 08:25 (GMT) | 12:11 (GMT) | 13:41 (GMT) | 15:57 (GMT) | 15:57 (GMT) | 18:01 (GMT) |
| 02 Jan 2022 | 28-05-1443 | 06:13 (GMT) | 08:25 (GMT) | 12:11 (GMT) | 13:42 (GMT) | 15:58 (GMT) | 15:58 (GMT) | 18:02 (GMT) |
| 03 Jan 2022 | 29-05-1443 | 06:13 (GMT) | 08:24 (GMT) | 12:12 (GMT) | 13:43 (GMT) | 15:59 (GMT) | 15:59 (GMT) | 18:03 (GMT) |
| 04 Jan 2022 | 30-05-1443 | 06:13 (GMT) | 08:24 (GMT) | 12:12 (GMT) | 13:44 (GMT) | 16:01 (GMT) | 16:01 (GMT) | 18:04 (GMT) |
| 05 Jan 2022 | 01-06-1443 | 06:13 (GMT) | 08:24 (GMT) | 12:13 (GMT) | 13:45 (GMT) | 16:02 (GMT) | 16:02 (GMT) | 18:06 (GMT) |
| 06 Jan 2022 | 02-06-1443 | 06:13 (GMT) | 08:23 (GMT) | 12:13 (GMT) | 13:46 (GMT) | 16:03 (GMT) | 16:03 (GMT) | 18:07 (GMT) |
| 07 Jan 2022 | 03-06-1443 | 06:13 (GMT) | 08:23 (GMT) | 12:13 (GMT) | 13:47 (GMT) | 16:05 (GMT) | 16:05 (GMT) | 18:08 (GMT) |
| 08 Jan 2022 | 04-06-1443 | 06:12 (GMT) | 08:22 (GMT) | 12:14 (GMT) | 13:48 (GMT) | 16:06 (GMT) | 16:06 (GMT) | 18:09 (GMT) |
| 09 Jan 2022 | 05-06-1443 | 06:12 (GMT) | 08:22 (GMT) | 12:14 (GMT) | 13:49 (GMT) | 16:07 (GMT) | 16:07 (GMT) | 18:10 (GMT) |
| 10 Jan 2022 | 06-06-1443 | 06:11 (GMT) | 08:21 (GMT) | 12:15 (GMT) | 13:50 (GMT) | 16:09 (GMT) | 16:09 (GMT) | 18:11 (GMT) |
| 11 Jan 2022 | 07-06-1443 | 06:11 (GMT) | 08:20 (GMT) | 12:15 (GMT) | 13:52 (GMT) | 16:11 (GMT) | 16:11 (GMT) | 18:13 (GMT) |
| 12 Jan 2022 | 08-06-1443 | 06:11 (GMT) | 08:19 (GMT) | 12:15 (GMT) | 13:53 (GMT) | 16:12 (GMT) | 16:12 (GMT) | 18:14 (GMT) |
| 13 Jan 2022 | 09-06-1443 | 06:10 (GMT) | 08:19 (GMT) | 12:16 (GMT) | 13:54 (GMT) | 16:14 (GMT) | 16:14 (GMT) | 18:15 (GMT) |
| 14 Jan 2022 | 10-06-1443 | 06:09 (GMT) | 08:18 (GMT) | 12:16 (GMT) | 13:56 (GMT) | 16:15 (GMT) | 16:15 (GMT) | 18:17 (GMT) |
| 15 Jan 2022 | 11-06-1443 | 06:09 (GMT) | 08:17 (GMT) | 12:17 (GMT) | 13:57 (GMT) | 16:17 (GMT) | 16:17 (GMT) | 18:18 (GMT) |
| 16 Jan 2022 | 12-06-1443 | 06:08 (GMT) | 08:16 (GMT) | 12:17 (GMT) | 13:58 (GMT) | 16:19 (GMT) | 16:19 (GMT) | 18:19 (GMT) |
| 17 Jan 2022 | 13-06-1443 | 06:08 (GMT) | 08:15 (GMT) | 12:17 (GMT) | 14:00 (GMT) | 16:20 (GMT) | 16:20 (GMT) | 18:21 (GMT) |
| 18 Jan 2022 | 14-06-1443 | 06:07 (GMT) | 08:14 (GMT) | 12:18 (GMT) | 14:01 (GMT) | 16:22 (GMT) | 16:22 (GMT) | 18:22 (GMT) |
| 19 Jan 2022 | 15-06-1443 | 06:06 (GMT) | 08:12 (GMT) | 12:18 (GMT) | 14:02 (GMT) | 16:24 (GMT) | 16:24 (GMT) | 18:24 (GMT) |
| 20 Jan 2022 | 16-06-1443 | 06:05 (GMT) | 08:11 (GMT) | 12:18 (GMT) | 14:04 (GMT) | 16:26 (GMT) | 16:26 (GMT) | 18:25 (GMT) |
| 21 Jan 2022 | 17-06-1443 | 06:04 (GMT) | 08:10 (GMT) | 12:18 (GMT) | 14:05 (GMT) | 16:28 (GMT) | 16:28 (GMT) | 18:26 (GMT) |
| 22 Jan 2022 | 18-06-1443 | 06:03 (GMT) | 08:09 (GMT) | 12:19 (GMT) | 14:07 (GMT) | 16:30 (GMT) | 16:30 (GMT) | 18:28 (GMT) |
| 23 Jan 2022 | 19-06-1443 | 06:02 (GMT) | 08:07 (GMT) | 12:19 (GMT) | 14:08 (GMT) | 16:31 (GMT) | 16:31 (GMT) | 18:30 (GMT) |
| 24 Jan 2022 | 20-06-1443 | 06:01 (GMT) | 08:06 (GMT) | 12:19 (GMT) | 14:10 (GMT) | 16:33 (GMT) | 16:33 (GMT) | 18:31 (GMT) |
| 25 Jan 2022 | 21-06-1443 | 06:00 (GMT) | 08:05 (GMT) | 12:19 (GMT) | 14:11 (GMT) | 16:35 (GMT) | 16:35 (GMT) | 18:33 (GMT) |
| 26 Jan 2022 | 22-06-1443 | 05:59 (GMT) | 08:03 (GMT) | 12:20 (GMT) | 14:13 (GMT) | 16:37 (GMT) | 16:37 (GMT) | 18:34 (GMT) |
| 27 Jan 2022 | 23-06-1443 | 05:58 (GMT) | 08:02 (GMT) | 12:20 (GMT) | 14:14 (GMT) | 16:39 (GMT) | 16:39 (GMT) | 18:36 (GMT) |
| 28 Jan 2022 | 24-06-1443 | 05:57 (GMT) | 08:00 (GMT) | 12:20 (GMT) | 14:16 (GMT) | 16:41 (GMT) | 16:41 (GMT) | 18:37 (GMT) |
| 29 Jan 2022 | 25-06-1443 | 05:55 (GMT) | 07:59 (GMT) | 12:20 (GMT) | 14:17 (GMT) | 16:43 (GMT) | 16:43 (GMT) | 18:39 (GMT) |
| 30 Jan 2022 | 26-06-1443 | 05:54 (GMT) | 07:57 (GMT) | 12:20 (GMT) | 14:19 (GMT) | 16:45 (GMT) | 16:45 (GMT) | 18:41 (GMT) |
| 31 Jan 2022 | 27-06-1443 | 05:53 (GMT) | 07:55 (GMT) | 12:21 (GMT) | 14:21 (GMT) | 16:47 (GMT) | 16:47 (GMT) | 18:42 (GMT) |
Local Parliamentary Information
The Local MP for this Masjid is Judith Cummins MP for Bradford South

You Local MP is part of the Labour Party
Your can contact your Local MP on: judith.cummins.mp@parliament.uk, judith.cummins.mp@parliament.uk or telephone them on: 020 7219 8607, 01274 924280