Please enter a valid UK Address:
Chapter: 2 Sura: 198 Verse: There is no blame on you that you seek munificence from your Lord (by trading during the time of Hajj). When you pour forth (in large numbers) from `Arafât then glorify All...- Read the Verse/ The Holy Quran
---
Madina Mosque (Horsham, West Sussex)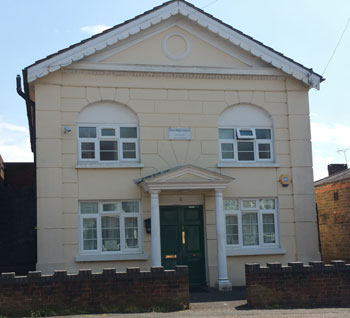 Madina Mosque
ADDRESS: 2 Park Terrace East, Horsham, West Sussex, RH13 5DN
TEL: 01403 251504 (Imam's residence) FAX: none GENDER: Unknown TYPE: Masjid/Mosque
Data Accuracy: A- Reasonably recent first hand knowledge of the masjid
Information
FOLLOWING : Sunni - Deobandi MASJID CAPACITY : 500
Other Masjid Names: Mohammediya Mosque
View Charity No: 1038756
Video:
See a Video of the Masjid
Photo Gallery
Travel Information
Here you will find the local travel information on how to get to the Masjid/Mosque
List of Railway Stations close to the Masjid/Mosque, within 5 miles radius
| | | |
| --- | --- | --- |
| | Horsham Railway Station | Distance: 0.3221 |
| | Littlehaven Railway Station | Distance: 1.3742 |
Maps
Notes / Additional information
The minute number of Muslims in Horsham have struggled against a body of hostile residents and councillors since around 1994 to have a place of worship approved for their use. They acquired the use of an industrial premises and then a private house, only for planning permission for each to be refused. Racist local residents formed an "action group" to obstruct their efforts. In 2008 they acquired the former Independent Jireh Baptist Chapel, and even this purpose-built place of worship attracted opposition
Premises was formerly: Church
Former Baptist Chapel and beauty parlour.
Masjid Prayer Timetable
In Islam muslims are required to prayer five times a day, each prayer can be measured in units and every prayer comrpomised with different set of units depending on the time of prayer, click here to learn more about how we calculate the prayer times for the masjids
| Date | Hijri | Fajar | Sunrise | Dhuhr | Asr | Sunset | Maghrib | Isha |
| --- | --- | --- | --- | --- | --- | --- | --- | --- |
| 01 Jan 2021 | 17-05-1442 | 06:03 (GMT) | 08:05 (GMT) | 12:05 (GMT) | 13:48 (GMT) | 16:05 (GMT) | 16:05 (GMT) | 18:01 (GMT) |
| 02 Jan 2021 | 18-05-1442 | 06:03 (GMT) | 08:05 (GMT) | 12:05 (GMT) | 13:49 (GMT) | 16:07 (GMT) | 16:07 (GMT) | 18:02 (GMT) |
| 03 Jan 2021 | 19-05-1442 | 06:03 (GMT) | 08:04 (GMT) | 12:06 (GMT) | 13:50 (GMT) | 16:08 (GMT) | 16:08 (GMT) | 18:03 (GMT) |
| 04 Jan 2021 | 20-05-1442 | 06:03 (GMT) | 08:04 (GMT) | 12:06 (GMT) | 13:51 (GMT) | 16:09 (GMT) | 16:09 (GMT) | 18:04 (GMT) |
| 05 Jan 2021 | 21-05-1442 | 06:03 (GMT) | 08:04 (GMT) | 12:07 (GMT) | 13:52 (GMT) | 16:10 (GMT) | 16:10 (GMT) | 18:05 (GMT) |
| 06 Jan 2021 | 22-05-1442 | 06:02 (GMT) | 08:04 (GMT) | 12:07 (GMT) | 13:53 (GMT) | 16:11 (GMT) | 16:11 (GMT) | 18:06 (GMT) |
| 07 Jan 2021 | 23-05-1442 | 06:02 (GMT) | 08:03 (GMT) | 12:08 (GMT) | 13:54 (GMT) | 16:13 (GMT) | 16:13 (GMT) | 18:07 (GMT) |
| 08 Jan 2021 | 24-05-1442 | 06:02 (GMT) | 08:03 (GMT) | 12:08 (GMT) | 13:55 (GMT) | 16:14 (GMT) | 16:14 (GMT) | 18:08 (GMT) |
| 09 Jan 2021 | 25-05-1442 | 06:02 (GMT) | 08:02 (GMT) | 12:09 (GMT) | 13:56 (GMT) | 16:15 (GMT) | 16:15 (GMT) | 18:09 (GMT) |
| 10 Jan 2021 | 26-05-1442 | 06:01 (GMT) | 08:02 (GMT) | 12:09 (GMT) | 13:57 (GMT) | 16:17 (GMT) | 16:17 (GMT) | 18:10 (GMT) |
| 11 Jan 2021 | 27-05-1442 | 06:01 (GMT) | 08:01 (GMT) | 12:09 (GMT) | 13:58 (GMT) | 16:18 (GMT) | 16:18 (GMT) | 18:11 (GMT) |
| 12 Jan 2021 | 28-05-1442 | 06:01 (GMT) | 08:00 (GMT) | 12:10 (GMT) | 14:00 (GMT) | 16:19 (GMT) | 16:19 (GMT) | 18:13 (GMT) |
| 13 Jan 2021 | 29-05-1442 | 06:00 (GMT) | 08:00 (GMT) | 12:10 (GMT) | 14:01 (GMT) | 16:21 (GMT) | 16:21 (GMT) | 18:14 (GMT) |
| 14 Jan 2021 | 30-05-1442 | 06:00 (GMT) | 07:59 (GMT) | 12:10 (GMT) | 14:02 (GMT) | 16:22 (GMT) | 16:22 (GMT) | 18:15 (GMT) |
| 15 Jan 2021 | 01-06-1442 | 05:59 (GMT) | 07:58 (GMT) | 12:11 (GMT) | 14:03 (GMT) | 16:24 (GMT) | 16:24 (GMT) | 18:16 (GMT) |
| 16 Jan 2021 | 02-06-1442 | 05:59 (GMT) | 07:57 (GMT) | 12:11 (GMT) | 14:05 (GMT) | 16:25 (GMT) | 16:25 (GMT) | 18:18 (GMT) |
| 17 Jan 2021 | 03-06-1442 | 05:58 (GMT) | 07:56 (GMT) | 12:11 (GMT) | 14:06 (GMT) | 16:27 (GMT) | 16:27 (GMT) | 18:19 (GMT) |
| 18 Jan 2021 | 04-06-1442 | 05:57 (GMT) | 07:56 (GMT) | 12:12 (GMT) | 14:07 (GMT) | 16:29 (GMT) | 16:29 (GMT) | 18:20 (GMT) |
| 19 Jan 2021 | 05-06-1442 | 05:57 (GMT) | 07:55 (GMT) | 12:12 (GMT) | 14:09 (GMT) | 16:30 (GMT) | 16:30 (GMT) | 18:22 (GMT) |
| 20 Jan 2021 | 06-06-1442 | 05:56 (GMT) | 07:54 (GMT) | 12:12 (GMT) | 14:10 (GMT) | 16:32 (GMT) | 16:32 (GMT) | 18:23 (GMT) |
| 21 Jan 2021 | 07-06-1442 | 05:55 (GMT) | 07:52 (GMT) | 12:13 (GMT) | 14:11 (GMT) | 16:34 (GMT) | 16:34 (GMT) | 18:24 (GMT) |
| 22 Jan 2021 | 08-06-1442 | 05:54 (GMT) | 07:51 (GMT) | 12:13 (GMT) | 14:13 (GMT) | 16:35 (GMT) | 16:35 (GMT) | 18:26 (GMT) |
| 23 Jan 2021 | 09-06-1442 | 05:53 (GMT) | 07:50 (GMT) | 12:13 (GMT) | 14:14 (GMT) | 16:37 (GMT) | 16:37 (GMT) | 18:27 (GMT) |
| 24 Jan 2021 | 10-06-1442 | 05:53 (GMT) | 07:49 (GMT) | 12:13 (GMT) | 14:15 (GMT) | 16:39 (GMT) | 16:39 (GMT) | 18:28 (GMT) |
| 25 Jan 2021 | 11-06-1442 | 05:52 (GMT) | 07:48 (GMT) | 12:14 (GMT) | 14:17 (GMT) | 16:40 (GMT) | 16:40 (GMT) | 18:30 (GMT) |
| 26 Jan 2021 | 12-06-1442 | 05:51 (GMT) | 07:46 (GMT) | 12:14 (GMT) | 14:18 (GMT) | 16:42 (GMT) | 16:42 (GMT) | 18:31 (GMT) |
| 27 Jan 2021 | 13-06-1442 | 05:50 (GMT) | 07:45 (GMT) | 12:14 (GMT) | 14:20 (GMT) | 16:44 (GMT) | 16:44 (GMT) | 18:33 (GMT) |
| 28 Jan 2021 | 14-06-1442 | 05:48 (GMT) | 07:44 (GMT) | 12:14 (GMT) | 14:21 (GMT) | 16:46 (GMT) | 16:46 (GMT) | 18:34 (GMT) |
| 29 Jan 2021 | 15-06-1442 | 05:47 (GMT) | 07:42 (GMT) | 12:14 (GMT) | 14:22 (GMT) | 16:47 (GMT) | 16:47 (GMT) | 18:36 (GMT) |
| 30 Jan 2021 | 16-06-1442 | 05:46 (GMT) | 07:41 (GMT) | 12:15 (GMT) | 14:24 (GMT) | 16:49 (GMT) | 16:49 (GMT) | 18:37 (GMT) |
| 31 Jan 2021 | 17-06-1442 | 05:45 (GMT) | 07:39 (GMT) | 12:15 (GMT) | 14:25 (GMT) | 16:51 (GMT) | 16:51 (GMT) | 18:39 (GMT) |