Please enter a valid UK Address:
Chapter: 2 Sura: 223 Verse: Your wives are (as) a tilth (to produce and rear children) for you, so come to your tilth when and how you like and send forward (some good) for yourselves, and take Allâh as ...- Read the Verse/ The Holy Quran

Help Palastine! It takes 5 minutes to contact your MP please CLICK HERE TO CONTACT YOUR MP Now!
---
SLMWAC (Langley Green, Crawley)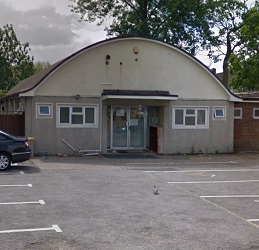 SLMWAC
ADDRESS: 14 Martyrs Ave, Langley Green, Crawley, RH11 7TH
TEL: +447913951364 TYPE: Masjid/Mosque
Data Accuracy: C- Masjid with a single reliable source of information.
Information
Travel Information
Here you will find the local travel information on how to get to the Masjid/Mosque
List of Railway Stations close to the Masjid/Mosque, within 5 miles radius
| | | |
| --- | --- | --- |
| | Ifield Railway Station | Distance: 1.1015 |
| | Three Bridges Railway Station | Distance: 1.8679 |
Masjid/Mosque Weather Report
Crawley West Sussex UK
2021-10-15 22:37

Temperature
11 ℃ (51.8 ℉)
Wind
3.8mph (6.1kpm) Miles Per Hour
130 Wind Degree
SE Wind Direction
6.7mph (10.8kpm) Gust Miles Per Hour
Weather Report
Today on October 15, 2021 the tempreture will be 11℃ (51.8 ℉), when you go outside the weather will feel like 10.7 ℃ (51.2 ℉) the wind will be 3.8mph (6.1kpm) and humidity will be 87
Notes / Additional information
Masjid Prayer Timetable
In Islam muslims are required to prayer five times a day, each prayer can be measured in units and every prayer comrpomised with different set of units depending on the time of prayer, click here to learn more about how we calculate the prayer times for the masjids
| Date | Hijri | Fajar | Sunrise | Dhuhr | Asr | Sunset | Maghrib | Isha |
| --- | --- | --- | --- | --- | --- | --- | --- | --- |
| 01 Oct 2021 | 23-02-1443 | 05:11 (BST) | 07:01 (BST) | 12:50 (BST) | 15:58 (BST) | 18:38 (BST) | 18:38 (BST) | 20:22 (BST) |
| 02 Oct 2021 | 24-02-1443 | 05:12 (BST) | 07:03 (BST) | 12:50 (BST) | 15:56 (BST) | 18:36 (BST) | 18:36 (BST) | 20:20 (BST) |
| 03 Oct 2021 | 25-02-1443 | 05:14 (BST) | 07:05 (BST) | 12:50 (BST) | 15:54 (BST) | 18:34 (BST) | 18:34 (BST) | 20:18 (BST) |
| 04 Oct 2021 | 26-02-1443 | 05:16 (BST) | 07:06 (BST) | 12:49 (BST) | 15:53 (BST) | 18:32 (BST) | 18:32 (BST) | 20:15 (BST) |
| 05 Oct 2021 | 27-02-1443 | 05:17 (BST) | 07:08 (BST) | 12:49 (BST) | 15:51 (BST) | 18:29 (BST) | 18:29 (BST) | 20:13 (BST) |
| 06 Oct 2021 | 28-02-1443 | 05:19 (BST) | 07:10 (BST) | 12:49 (BST) | 15:49 (BST) | 18:27 (BST) | 18:27 (BST) | 20:11 (BST) |
| 07 Oct 2021 | 29-02-1443 | 05:21 (BST) | 07:11 (BST) | 12:49 (BST) | 15:47 (BST) | 18:25 (BST) | 18:25 (BST) | 20:09 (BST) |
| 08 Oct 2021 | 01-03-1443 | 05:23 (BST) | 07:13 (BST) | 12:48 (BST) | 15:46 (BST) | 18:23 (BST) | 18:23 (BST) | 20:06 (BST) |
| 09 Oct 2021 | 02-03-1443 | 05:24 (BST) | 07:14 (BST) | 12:48 (BST) | 15:44 (BST) | 18:21 (BST) | 18:21 (BST) | 20:04 (BST) |
| 10 Oct 2021 | 03-03-1443 | 05:26 (BST) | 07:16 (BST) | 12:48 (BST) | 15:42 (BST) | 18:18 (BST) | 18:18 (BST) | 20:02 (BST) |
| 11 Oct 2021 | 04-03-1443 | 05:28 (BST) | 07:18 (BST) | 12:47 (BST) | 15:41 (BST) | 18:16 (BST) | 18:16 (BST) | 20:00 (BST) |
| 12 Oct 2021 | 05-03-1443 | 05:29 (BST) | 07:19 (BST) | 12:47 (BST) | 15:39 (BST) | 18:14 (BST) | 18:14 (BST) | 19:58 (BST) |
| 13 Oct 2021 | 06-03-1443 | 05:31 (BST) | 07:21 (BST) | 12:47 (BST) | 15:38 (BST) | 18:12 (BST) | 18:12 (BST) | 19:56 (BST) |
| 14 Oct 2021 | 07-03-1443 | 05:33 (BST) | 07:23 (BST) | 12:47 (BST) | 15:36 (BST) | 18:10 (BST) | 18:10 (BST) | 19:53 (BST) |
| 15 Oct 2021 | 08-03-1443 | 05:34 (BST) | 07:24 (BST) | 12:47 (BST) | 15:34 (BST) | 18:08 (BST) | 18:08 (BST) | 19:51 (BST) |
| 16 Oct 2021 | 09-03-1443 | 05:36 (BST) | 07:26 (BST) | 12:46 (BST) | 15:33 (BST) | 18:06 (BST) | 18:06 (BST) | 19:49 (BST) |
| 17 Oct 2021 | 10-03-1443 | 05:37 (BST) | 07:28 (BST) | 12:46 (BST) | 15:31 (BST) | 18:03 (BST) | 18:03 (BST) | 19:47 (BST) |
| 18 Oct 2021 | 11-03-1443 | 05:39 (BST) | 07:29 (BST) | 12:46 (BST) | 15:29 (BST) | 18:01 (BST) | 18:01 (BST) | 19:45 (BST) |
| 19 Oct 2021 | 12-03-1443 | 05:41 (BST) | 07:31 (BST) | 12:46 (BST) | 15:28 (BST) | 17:59 (BST) | 17:59 (BST) | 19:43 (BST) |
| 20 Oct 2021 | 13-03-1443 | 05:42 (BST) | 07:33 (BST) | 12:46 (BST) | 15:26 (BST) | 17:57 (BST) | 17:57 (BST) | 19:41 (BST) |
| 21 Oct 2021 | 14-03-1443 | 05:44 (BST) | 07:35 (BST) | 12:45 (BST) | 15:25 (BST) | 17:55 (BST) | 17:55 (BST) | 19:40 (BST) |
| 22 Oct 2021 | 15-03-1443 | 05:45 (BST) | 07:36 (BST) | 12:45 (BST) | 15:23 (BST) | 17:53 (BST) | 17:53 (BST) | 19:38 (BST) |
| 23 Oct 2021 | 16-03-1443 | 05:47 (BST) | 07:38 (BST) | 12:45 (BST) | 15:21 (BST) | 17:51 (BST) | 17:51 (BST) | 19:36 (BST) |
| 24 Oct 2021 | 17-03-1443 | 05:49 (BST) | 07:40 (BST) | 12:45 (BST) | 15:20 (BST) | 17:49 (BST) | 17:49 (BST) | 19:34 (BST) |
| 25 Oct 2021 | 18-03-1443 | 05:50 (BST) | 07:41 (BST) | 12:45 (BST) | 15:18 (BST) | 17:47 (BST) | 17:47 (BST) | 19:32 (BST) |
| 26 Oct 2021 | 19-03-1443 | 05:52 (BST) | 07:43 (BST) | 12:45 (BST) | 15:17 (BST) | 17:45 (BST) | 17:45 (BST) | 19:30 (BST) |
| 27 Oct 2021 | 20-03-1443 | 05:53 (BST) | 07:45 (BST) | 12:45 (BST) | 15:15 (BST) | 17:44 (BST) | 17:44 (BST) | 19:29 (BST) |
| 28 Oct 2021 | 21-03-1443 | 05:55 (BST) | 07:47 (BST) | 12:45 (BST) | 15:14 (BST) | 17:42 (BST) | 17:42 (BST) | 19:27 (BST) |
| 29 Oct 2021 | 22-03-1443 | 05:56 (BST) | 07:48 (BST) | 12:44 (BST) | 15:12 (BST) | 17:40 (BST) | 17:40 (BST) | 19:25 (BST) |
| 30 Oct 2021 | 23-03-1443 | 05:58 (BST) | 07:50 (BST) | 12:44 (BST) | 15:11 (BST) | 17:38 (BST) | 17:38 (BST) | 19:24 (BST) |
| 31 Oct 2021 | 24-03-1443 | 05:00 (GMT) | 06:52 (GMT) | 11:44 (GMT) | 14:10 (GMT) | 16:36 (GMT) | 16:36 (GMT) | 18:22 (GMT) |
Local Parliamentary Information
The Local MP for this Masjid is Henry Smith MP for Crawley

You Local MP is part of the Conservative Party
Your can contact your Local MP on: henry.smith.mp@parliament.uk, or telephone them on: 020 7219 7043, 01293 934554