Please enter a valid UK Address:
Chapter: 24 Sura: 54 Verse: Say, `Obey Allâh and obey the Messenger.' But if you turn your back (remember that) he (- the Messenger) is responsible for what he is charged with (- the responsibility of co...- Read the Verse/ The Holy Quran

Help Palastine! It takes 5 minutes to contact your MP please CLICK HERE TO CONTACT YOUR MP Now!
---
Green Lane Mosque (Small Heath, Bordesley, Birmingham)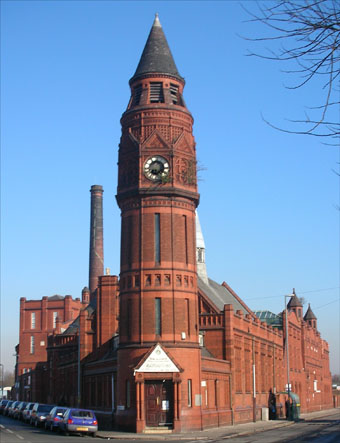 Green Lane Mosque
ADDRESS: 20 Green Lane, Small Heath, Birmingham, West Midlands, B9 5DB
TEL: 0121 713 0080 FAX: 0121 713 0081 GENDER: Male / Female TYPE: Masjid/Mosque
Data Accuracy: A- Reasonably recent first hand knowledge of the masjid
Information
FOLLOWING : Salafi MANAGEMENT :
Pakistani MASJID CAPACITY : 500
Other Masjid Names: Jamiat-ahl-e-hadith, Markazi Jamiat Ahl-e-Hadith UK
View Charity No: 272001
Video:
See a Video of the Masjid
Photo Gallery
Travel Information
Here you will find the local travel information on how to get to the Masjid/Mosque
List of Railway Stations close to the Masjid/Mosque, within 5 miles radius
| | | |
| --- | --- | --- |
| | Bootle Oriel Road Railway Station | Distance: 0.6029 |
| | Small Heath Railway Station | Distance: 0.6802 |
| | Adderley Park Railway Station | Distance: 0.7528 |
| | Duddeston Railway Station | Distance: 1.1159 |
| | Birmingham International Railway Station | Distance: 1.2882 |
| | Birmingham Moor Street Railway Station | Distance: 1.4827 |
| | Birmingham New Street Railway Station | Distance: 1.6807 |
| | Tyseley Railway Station | Distance: 1.6985 |
| | Burnley Central Railway Station | Distance: 1.8462 |
Masjid/Mosque Weather Report
Birmingham Warwickshire UK
2021-12-02 6:32

Temperature
0 ℃ (32 ℉)
Wind
12.5mph (20.2kpm) Miles Per Hour
280 Wind Degree
W Wind Direction
17.7mph (28.4kpm) Gust Miles Per Hour
Weather Report
Today on December 2, 2021 the tempreture will be 0℃ (32 ℉), when you go outside the weather will feel like -5 ℃ (23 ℉) the wind will be 12.5mph (20.2kpm) and humidity will be 86
Notes / Additional information
Entry in Register of Places of Worship: Birmingham, 061: 76054
Premises was formerly: Public library and swimming baths
Masjid Prayer Timetable
In Islam muslims are required to prayer five times a day, each prayer can be measured in units and every prayer comrpomised with different set of units depending on the time of prayer, click here to learn more about how we calculate the prayer times for the masjids
| Date | Hijri | Fajar | Sunrise | Dhuhr | Asr | Sunset | Maghrib | Isha |
| --- | --- | --- | --- | --- | --- | --- | --- | --- |
| 01 Dec 2021 | 25-04-1443 | 05:51 (GMT) | 07:55 (GMT) | 11:57 (GMT) | 13:40 (GMT) | 15:57 (GMT) | 15:57 (GMT) | 17:55 (GMT) |
| 02 Dec 2021 | 26-04-1443 | 05:52 (GMT) | 07:57 (GMT) | 11:57 (GMT) | 13:40 (GMT) | 15:57 (GMT) | 15:57 (GMT) | 17:55 (GMT) |
| 03 Dec 2021 | 27-04-1443 | 05:53 (GMT) | 07:58 (GMT) | 11:57 (GMT) | 13:39 (GMT) | 15:56 (GMT) | 15:56 (GMT) | 17:54 (GMT) |
| 04 Dec 2021 | 28-04-1443 | 05:54 (GMT) | 08:00 (GMT) | 11:58 (GMT) | 13:39 (GMT) | 15:55 (GMT) | 15:55 (GMT) | 17:54 (GMT) |
| 05 Dec 2021 | 29-04-1443 | 05:55 (GMT) | 08:01 (GMT) | 11:58 (GMT) | 13:39 (GMT) | 15:55 (GMT) | 15:55 (GMT) | 17:54 (GMT) |
| 06 Dec 2021 | 01-05-1443 | 05:56 (GMT) | 08:02 (GMT) | 11:59 (GMT) | 13:38 (GMT) | 15:55 (GMT) | 15:55 (GMT) | 17:54 (GMT) |
| 07 Dec 2021 | 02-05-1443 | 05:57 (GMT) | 08:03 (GMT) | 11:59 (GMT) | 13:38 (GMT) | 15:54 (GMT) | 15:54 (GMT) | 17:54 (GMT) |
| 08 Dec 2021 | 03-05-1443 | 05:58 (GMT) | 08:05 (GMT) | 11:59 (GMT) | 13:38 (GMT) | 15:54 (GMT) | 15:54 (GMT) | 17:54 (GMT) |
| 09 Dec 2021 | 04-05-1443 | 05:59 (GMT) | 08:06 (GMT) | 12:00 (GMT) | 13:38 (GMT) | 15:54 (GMT) | 15:54 (GMT) | 17:53 (GMT) |
| 10 Dec 2021 | 05-05-1443 | 06:00 (GMT) | 08:07 (GMT) | 12:00 (GMT) | 13:38 (GMT) | 15:54 (GMT) | 15:54 (GMT) | 17:53 (GMT) |
| 11 Dec 2021 | 06-05-1443 | 06:01 (GMT) | 08:08 (GMT) | 12:01 (GMT) | 13:38 (GMT) | 15:53 (GMT) | 15:53 (GMT) | 17:53 (GMT) |
| 12 Dec 2021 | 07-05-1443 | 06:02 (GMT) | 08:09 (GMT) | 12:01 (GMT) | 13:38 (GMT) | 15:53 (GMT) | 15:53 (GMT) | 17:54 (GMT) |
| 13 Dec 2021 | 08-05-1443 | 06:03 (GMT) | 08:10 (GMT) | 12:02 (GMT) | 13:38 (GMT) | 15:53 (GMT) | 15:53 (GMT) | 17:54 (GMT) |
| 14 Dec 2021 | 09-05-1443 | 06:04 (GMT) | 08:11 (GMT) | 12:02 (GMT) | 13:38 (GMT) | 15:53 (GMT) | 15:53 (GMT) | 17:54 (GMT) |
| 15 Dec 2021 | 10-05-1443 | 06:04 (GMT) | 08:12 (GMT) | 12:03 (GMT) | 13:38 (GMT) | 15:54 (GMT) | 15:54 (GMT) | 17:54 (GMT) |
| 16 Dec 2021 | 11-05-1443 | 06:05 (GMT) | 08:13 (GMT) | 12:03 (GMT) | 13:38 (GMT) | 15:54 (GMT) | 15:54 (GMT) | 17:54 (GMT) |
| 17 Dec 2021 | 12-05-1443 | 06:06 (GMT) | 08:13 (GMT) | 12:04 (GMT) | 13:39 (GMT) | 15:54 (GMT) | 15:54 (GMT) | 17:55 (GMT) |
| 18 Dec 2021 | 13-05-1443 | 06:06 (GMT) | 08:14 (GMT) | 12:04 (GMT) | 13:39 (GMT) | 15:54 (GMT) | 15:54 (GMT) | 17:55 (GMT) |
| 19 Dec 2021 | 14-05-1443 | 06:07 (GMT) | 08:15 (GMT) | 12:05 (GMT) | 13:39 (GMT) | 15:55 (GMT) | 15:55 (GMT) | 17:55 (GMT) |
| 20 Dec 2021 | 15-05-1443 | 06:08 (GMT) | 08:15 (GMT) | 12:05 (GMT) | 13:40 (GMT) | 15:55 (GMT) | 15:55 (GMT) | 17:56 (GMT) |
| 21 Dec 2021 | 16-05-1443 | 06:08 (GMT) | 08:16 (GMT) | 12:06 (GMT) | 13:40 (GMT) | 15:55 (GMT) | 15:55 (GMT) | 17:56 (GMT) |
| 22 Dec 2021 | 17-05-1443 | 06:09 (GMT) | 08:16 (GMT) | 12:06 (GMT) | 13:41 (GMT) | 15:56 (GMT) | 15:56 (GMT) | 17:57 (GMT) |
| 23 Dec 2021 | 18-05-1443 | 06:09 (GMT) | 08:17 (GMT) | 12:07 (GMT) | 13:41 (GMT) | 15:57 (GMT) | 15:57 (GMT) | 17:57 (GMT) |
| 24 Dec 2021 | 19-05-1443 | 06:09 (GMT) | 08:17 (GMT) | 12:07 (GMT) | 13:42 (GMT) | 15:57 (GMT) | 15:57 (GMT) | 17:58 (GMT) |
| 25 Dec 2021 | 20-05-1443 | 06:10 (GMT) | 08:17 (GMT) | 12:08 (GMT) | 13:42 (GMT) | 15:58 (GMT) | 15:58 (GMT) | 17:59 (GMT) |
| 26 Dec 2021 | 21-05-1443 | 06:10 (GMT) | 08:18 (GMT) | 12:08 (GMT) | 13:43 (GMT) | 15:59 (GMT) | 15:59 (GMT) | 17:59 (GMT) |
| 27 Dec 2021 | 22-05-1443 | 06:10 (GMT) | 08:18 (GMT) | 12:09 (GMT) | 13:44 (GMT) | 16:00 (GMT) | 16:00 (GMT) | 18:00 (GMT) |
| 28 Dec 2021 | 23-05-1443 | 06:11 (GMT) | 08:18 (GMT) | 12:09 (GMT) | 13:44 (GMT) | 16:00 (GMT) | 16:00 (GMT) | 18:01 (GMT) |
| 29 Dec 2021 | 24-05-1443 | 06:11 (GMT) | 08:18 (GMT) | 12:10 (GMT) | 13:45 (GMT) | 16:01 (GMT) | 16:01 (GMT) | 18:02 (GMT) |
| 30 Dec 2021 | 25-05-1443 | 06:11 (GMT) | 08:18 (GMT) | 12:10 (GMT) | 13:46 (GMT) | 16:02 (GMT) | 16:02 (GMT) | 18:02 (GMT) |
| 31 Dec 2021 | 26-05-1443 | 06:11 (GMT) | 08:18 (GMT) | 12:11 (GMT) | 13:47 (GMT) | 16:03 (GMT) | 16:03 (GMT) | 18:03 (GMT) |
Local Parliamentary Information
The Local MP for this Masjid is Shabana Mahmood MP for Birmingham, Ladywood

You Local MP is part of the Labour Party
Your can contact your Local MP on: , shabana.mahmood.mp@parliament.uk or telephone them on: 0121 661 9440, 0121 661 9440