Please enter a valid UK Address:
Chapter: 2 Sura: 154 Verse: And do not count as dead those who are killed in the cause of Allâh. Rather (they are) living, only you perceive not (their life)....- Read the Verse/ The Holy Quran

Help Palastine! It takes 5 minutes to contact your MP please CLICK HERE TO CONTACT YOUR MP Now!
---
Northampton Mosque and Islamic Centre
Northampton Mosque and Islamic Centre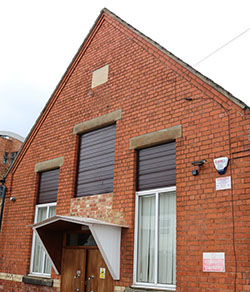 Northampton Mosque and Islamic Centre
ADDRESS: 72 Clare Street, Northampton, Northamptonshire, NN1 3JF
TEL: 07951 816208, 07983 579111 FAX: n/a GENDER: Male (Only) TYPE: Masjid/Mosque
Data Accuracy: B- Well known masjid with plenty of corroborating data
Information
FOLLOWING : Salafi MASJID CAPACITY : 500
Other Masjid Names: Taawun Educational Trust, Al-Iman Society of Northamptonshire
View Charity No: 1174312
Travel Information
Here you will find the local travel information on how to get to the Masjid/Mosque
List of Railway Stations close to the Masjid/Mosque, within 5 miles radius
| | | |
| --- | --- | --- |
| | Northampton Railway Station | Distance: 0.9193 |
Masjid/Mosque Weather Report
Northampton Northamptonshire UK
2021-12-06 6:05

Temperature
2 ℃ (35.6 ℉)
Wind
8.1mph (13kpm) Miles Per Hour
260 Wind Degree
W Wind Direction
9.8mph (15.8kpm) Gust Miles Per Hour
Weather Report
Today on December 6, 2021 the tempreture will be 2℃ (35.6 ℉), when you go outside the weather will feel like -0.6 ℃ (31 ℉) the wind will be 8.1mph (13kpm) and humidity will be 100
Notes / Additional information
Former Grove Works, built as a school.
Premises was formerly: School

Masjid Prayer Timetable
In Islam muslims are required to prayer five times a day, each prayer can be measured in units and every prayer comrpomised with different set of units depending on the time of prayer, click here to learn more about how we calculate the prayer times for the masjids
| Date | Hijri | Fajar | Sunrise | Dhuhr | Asr | Sunset | Maghrib | Isha |
| --- | --- | --- | --- | --- | --- | --- | --- | --- |
| 01 Dec 2021 | 25-04-1443 | 05:46 (GMT) | 07:50 (GMT) | 11:53 (GMT) | 13:37 (GMT) | 15:54 (GMT) | 15:54 (GMT) | 17:52 (GMT) |
| 02 Dec 2021 | 26-04-1443 | 05:48 (GMT) | 07:52 (GMT) | 11:53 (GMT) | 13:37 (GMT) | 15:54 (GMT) | 15:54 (GMT) | 17:51 (GMT) |
| 03 Dec 2021 | 27-04-1443 | 05:49 (GMT) | 07:53 (GMT) | 11:53 (GMT) | 13:36 (GMT) | 15:53 (GMT) | 15:53 (GMT) | 17:51 (GMT) |
| 04 Dec 2021 | 28-04-1443 | 05:50 (GMT) | 07:55 (GMT) | 11:54 (GMT) | 13:36 (GMT) | 15:53 (GMT) | 15:53 (GMT) | 17:51 (GMT) |
| 05 Dec 2021 | 29-04-1443 | 05:51 (GMT) | 07:56 (GMT) | 11:54 (GMT) | 13:36 (GMT) | 15:52 (GMT) | 15:52 (GMT) | 17:50 (GMT) |
| 06 Dec 2021 | 01-05-1443 | 05:52 (GMT) | 07:57 (GMT) | 11:55 (GMT) | 13:36 (GMT) | 15:52 (GMT) | 15:52 (GMT) | 17:50 (GMT) |
| 07 Dec 2021 | 02-05-1443 | 05:53 (GMT) | 07:58 (GMT) | 11:55 (GMT) | 13:35 (GMT) | 15:51 (GMT) | 15:51 (GMT) | 17:50 (GMT) |
| 08 Dec 2021 | 03-05-1443 | 05:54 (GMT) | 08:00 (GMT) | 11:56 (GMT) | 13:35 (GMT) | 15:51 (GMT) | 15:51 (GMT) | 17:50 (GMT) |
| 09 Dec 2021 | 04-05-1443 | 05:55 (GMT) | 08:01 (GMT) | 11:56 (GMT) | 13:35 (GMT) | 15:51 (GMT) | 15:51 (GMT) | 17:50 (GMT) |
| 10 Dec 2021 | 05-05-1443 | 05:56 (GMT) | 08:02 (GMT) | 11:56 (GMT) | 13:35 (GMT) | 15:51 (GMT) | 15:51 (GMT) | 17:50 (GMT) |
| 11 Dec 2021 | 06-05-1443 | 05:57 (GMT) | 08:03 (GMT) | 11:57 (GMT) | 13:35 (GMT) | 15:51 (GMT) | 15:51 (GMT) | 17:50 (GMT) |
| 12 Dec 2021 | 07-05-1443 | 05:58 (GMT) | 08:04 (GMT) | 11:57 (GMT) | 13:35 (GMT) | 15:51 (GMT) | 15:51 (GMT) | 17:50 (GMT) |
| 13 Dec 2021 | 08-05-1443 | 05:58 (GMT) | 08:05 (GMT) | 11:58 (GMT) | 13:35 (GMT) | 15:51 (GMT) | 15:51 (GMT) | 17:50 (GMT) |
| 14 Dec 2021 | 09-05-1443 | 05:59 (GMT) | 08:06 (GMT) | 11:58 (GMT) | 13:35 (GMT) | 15:51 (GMT) | 15:51 (GMT) | 17:50 (GMT) |
| 15 Dec 2021 | 10-05-1443 | 06:00 (GMT) | 08:07 (GMT) | 11:59 (GMT) | 13:35 (GMT) | 15:51 (GMT) | 15:51 (GMT) | 17:51 (GMT) |
| 16 Dec 2021 | 11-05-1443 | 06:01 (GMT) | 08:07 (GMT) | 11:59 (GMT) | 13:36 (GMT) | 15:51 (GMT) | 15:51 (GMT) | 17:51 (GMT) |
| 17 Dec 2021 | 12-05-1443 | 06:01 (GMT) | 08:08 (GMT) | 12:00 (GMT) | 13:36 (GMT) | 15:51 (GMT) | 15:51 (GMT) | 17:51 (GMT) |
| 18 Dec 2021 | 13-05-1443 | 06:02 (GMT) | 08:09 (GMT) | 12:00 (GMT) | 13:36 (GMT) | 15:52 (GMT) | 15:52 (GMT) | 17:52 (GMT) |
| 19 Dec 2021 | 14-05-1443 | 06:03 (GMT) | 08:10 (GMT) | 12:01 (GMT) | 13:36 (GMT) | 15:52 (GMT) | 15:52 (GMT) | 17:52 (GMT) |
| 20 Dec 2021 | 15-05-1443 | 06:03 (GMT) | 08:10 (GMT) | 12:01 (GMT) | 13:37 (GMT) | 15:52 (GMT) | 15:52 (GMT) | 17:52 (GMT) |
| 21 Dec 2021 | 16-05-1443 | 06:04 (GMT) | 08:11 (GMT) | 12:02 (GMT) | 13:37 (GMT) | 15:53 (GMT) | 15:53 (GMT) | 17:53 (GMT) |
| 22 Dec 2021 | 17-05-1443 | 06:04 (GMT) | 08:11 (GMT) | 12:02 (GMT) | 13:38 (GMT) | 15:53 (GMT) | 15:53 (GMT) | 17:53 (GMT) |
| 23 Dec 2021 | 18-05-1443 | 06:05 (GMT) | 08:12 (GMT) | 12:03 (GMT) | 13:38 (GMT) | 15:54 (GMT) | 15:54 (GMT) | 17:54 (GMT) |
| 24 Dec 2021 | 19-05-1443 | 06:05 (GMT) | 08:12 (GMT) | 12:03 (GMT) | 13:39 (GMT) | 15:55 (GMT) | 15:55 (GMT) | 17:55 (GMT) |
| 25 Dec 2021 | 20-05-1443 | 06:06 (GMT) | 08:12 (GMT) | 12:04 (GMT) | 13:39 (GMT) | 15:55 (GMT) | 15:55 (GMT) | 17:55 (GMT) |
| 26 Dec 2021 | 21-05-1443 | 06:06 (GMT) | 08:13 (GMT) | 12:04 (GMT) | 13:40 (GMT) | 15:56 (GMT) | 15:56 (GMT) | 17:56 (GMT) |
| 27 Dec 2021 | 22-05-1443 | 06:06 (GMT) | 08:13 (GMT) | 12:05 (GMT) | 13:41 (GMT) | 15:57 (GMT) | 15:57 (GMT) | 17:57 (GMT) |
| 28 Dec 2021 | 23-05-1443 | 06:06 (GMT) | 08:13 (GMT) | 12:05 (GMT) | 13:41 (GMT) | 15:58 (GMT) | 15:58 (GMT) | 17:57 (GMT) |
| 29 Dec 2021 | 24-05-1443 | 06:07 (GMT) | 08:13 (GMT) | 12:06 (GMT) | 13:42 (GMT) | 15:59 (GMT) | 15:59 (GMT) | 17:58 (GMT) |
| 30 Dec 2021 | 25-05-1443 | 06:07 (GMT) | 08:13 (GMT) | 12:06 (GMT) | 13:43 (GMT) | 16:00 (GMT) | 16:00 (GMT) | 17:59 (GMT) |
| 31 Dec 2021 | 26-05-1443 | 06:07 (GMT) | 08:13 (GMT) | 12:07 (GMT) | 13:44 (GMT) | 16:01 (GMT) | 16:01 (GMT) | 18:00 (GMT) |
Local Parliamentary Information
The Local MP for this Masjid is Andrew Lewer MP for Northampton South

You Local MP is part of the Conservative Party
Your can contact your Local MP on: andrew.lewer.mp@parliament.uk or telephone them on: 0207 219 3870