Please enter a valid UK Address:
Chapter: 2 Sura: 73 Verse: So We said, `Judge it in the context of its other circumstances.' That is how Allâh brings the dead (for Jesus being dead to all appearances) to life, and He shows you His sig...- Read the Verse/ The Holy Quran

Help Palastine! It takes 5 minutes to contact your MP please CLICK HERE TO CONTACT YOUR MP Now!
---
Al Furqan Masjid (Rusholme, Manchester)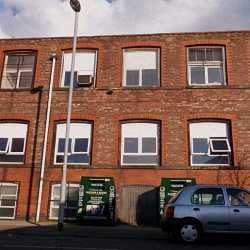 Al Furqan Masjid
ADDRESS: 42 Great Southern Street, Manchester, Greater Manchester, M14 4EZ
TEL: 07930 402690, 0161 248 8962 FAX: none GENDER: Male (Only) TYPE: Masjid/Mosque
Data Accuracy: B- Well known masjid with plenty of corroborating data
Information
FOLLOWING : Unknown
Other Masjid Names: Manchester Somali Culture and Development Centre, Alfurqan Supplementary School
Travel Information
Here you will find the local travel information on how to get to the Masjid/Mosque
List of Railway Stations close to the Masjid/Mosque, within 5 miles radius
| | | |
| --- | --- | --- |
| | Manchester Oxford Road Railway Station | Distance: 1.3791 |
| | Oxford Road (Manchester) Railway Station | Distance: 1.3791 |
| | Ardwick Railway Station | Distance: 1.4533 |
| | Manchester Piccadilly Railway Station | Distance: 1.4576 |
| | Piccadilly (Manchester) Railway Station | Distance: 1.4576 |
| | Deansgate Railway Station | Distance: 1.5091 |
| | Mauldeth Road Railway Station | Distance: 1.7522 |
| | Levenshulme Railway Station | Distance: 1.818 |
| | Rochester Railway Station | Distance: 1.8898 |
| | Ashburys Railway Station | Distance: 1.9274 |
Masjid/Mosque Weather Report
Manchester Lancashire UK
2021-12-02 6:34

Temperature
1 ℃ (33.8 ℉)
Wind
6.9mph (11.2kpm) Miles Per Hour
300 Wind Degree
WNW Wind Direction
18.8mph (30.2kpm) Gust Miles Per Hour
Weather Report
Today on December 2, 2021 the tempreture will be 1℃ (33.8 ℉), when you go outside the weather will feel like -4 ℃ (24.8 ℉) the wind will be 6.9mph (11.2kpm) and humidity will be 75
Notes / Additional information
Masjid Prayer Timetable
In Islam muslims are required to prayer five times a day, each prayer can be measured in units and every prayer comrpomised with different set of units depending on the time of prayer, click here to learn more about how we calculate the prayer times for the masjids
| Date | Hijri | Fajar | Sunrise | Dhuhr | Asr | Sunset | Maghrib | Isha |
| --- | --- | --- | --- | --- | --- | --- | --- | --- |
| 01 Dec 2021 | 25-04-1443 | 05:54 (GMT) | 08:02 (GMT) | 11:58 (GMT) | 13:37 (GMT) | 15:54 (GMT) | 15:54 (GMT) | 17:55 (GMT) |
| 02 Dec 2021 | 26-04-1443 | 05:55 (GMT) | 08:03 (GMT) | 11:58 (GMT) | 13:37 (GMT) | 15:53 (GMT) | 15:53 (GMT) | 17:55 (GMT) |
| 03 Dec 2021 | 27-04-1443 | 05:56 (GMT) | 08:05 (GMT) | 11:59 (GMT) | 13:36 (GMT) | 15:52 (GMT) | 15:52 (GMT) | 17:54 (GMT) |
| 04 Dec 2021 | 28-04-1443 | 05:57 (GMT) | 08:06 (GMT) | 11:59 (GMT) | 13:36 (GMT) | 15:52 (GMT) | 15:52 (GMT) | 17:54 (GMT) |
| 05 Dec 2021 | 29-04-1443 | 05:58 (GMT) | 08:07 (GMT) | 12:00 (GMT) | 13:36 (GMT) | 15:51 (GMT) | 15:51 (GMT) | 17:54 (GMT) |
| 06 Dec 2021 | 01-05-1443 | 05:59 (GMT) | 08:09 (GMT) | 12:00 (GMT) | 13:35 (GMT) | 15:51 (GMT) | 15:51 (GMT) | 17:53 (GMT) |
| 07 Dec 2021 | 02-05-1443 | 06:00 (GMT) | 08:10 (GMT) | 12:00 (GMT) | 13:35 (GMT) | 15:51 (GMT) | 15:51 (GMT) | 17:53 (GMT) |
| 08 Dec 2021 | 03-05-1443 | 06:01 (GMT) | 08:11 (GMT) | 12:01 (GMT) | 13:35 (GMT) | 15:50 (GMT) | 15:50 (GMT) | 17:53 (GMT) |
| 09 Dec 2021 | 04-05-1443 | 06:02 (GMT) | 08:12 (GMT) | 12:01 (GMT) | 13:35 (GMT) | 15:50 (GMT) | 15:50 (GMT) | 17:53 (GMT) |
| 10 Dec 2021 | 05-05-1443 | 06:03 (GMT) | 08:14 (GMT) | 12:02 (GMT) | 13:35 (GMT) | 15:50 (GMT) | 15:50 (GMT) | 17:53 (GMT) |
| 11 Dec 2021 | 06-05-1443 | 06:04 (GMT) | 08:15 (GMT) | 12:02 (GMT) | 13:35 (GMT) | 15:50 (GMT) | 15:50 (GMT) | 17:53 (GMT) |
| 12 Dec 2021 | 07-05-1443 | 06:05 (GMT) | 08:16 (GMT) | 12:03 (GMT) | 13:35 (GMT) | 15:49 (GMT) | 15:49 (GMT) | 17:53 (GMT) |
| 13 Dec 2021 | 08-05-1443 | 06:06 (GMT) | 08:17 (GMT) | 12:03 (GMT) | 13:35 (GMT) | 15:49 (GMT) | 15:49 (GMT) | 17:53 (GMT) |
| 14 Dec 2021 | 09-05-1443 | 06:07 (GMT) | 08:18 (GMT) | 12:04 (GMT) | 13:35 (GMT) | 15:49 (GMT) | 15:49 (GMT) | 17:53 (GMT) |
| 15 Dec 2021 | 10-05-1443 | 06:08 (GMT) | 08:19 (GMT) | 12:04 (GMT) | 13:35 (GMT) | 15:50 (GMT) | 15:50 (GMT) | 17:54 (GMT) |
| 16 Dec 2021 | 11-05-1443 | 06:08 (GMT) | 08:19 (GMT) | 12:05 (GMT) | 13:35 (GMT) | 15:50 (GMT) | 15:50 (GMT) | 17:54 (GMT) |
| 17 Dec 2021 | 12-05-1443 | 06:09 (GMT) | 08:20 (GMT) | 12:05 (GMT) | 13:35 (GMT) | 15:50 (GMT) | 15:50 (GMT) | 17:54 (GMT) |
| 18 Dec 2021 | 13-05-1443 | 06:10 (GMT) | 08:21 (GMT) | 12:06 (GMT) | 13:36 (GMT) | 15:50 (GMT) | 15:50 (GMT) | 17:55 (GMT) |
| 19 Dec 2021 | 14-05-1443 | 06:10 (GMT) | 08:22 (GMT) | 12:06 (GMT) | 13:36 (GMT) | 15:51 (GMT) | 15:51 (GMT) | 17:55 (GMT) |
| 20 Dec 2021 | 15-05-1443 | 06:11 (GMT) | 08:22 (GMT) | 12:07 (GMT) | 13:36 (GMT) | 15:51 (GMT) | 15:51 (GMT) | 17:55 (GMT) |
| 21 Dec 2021 | 16-05-1443 | 06:11 (GMT) | 08:23 (GMT) | 12:07 (GMT) | 13:37 (GMT) | 15:52 (GMT) | 15:52 (GMT) | 17:56 (GMT) |
| 22 Dec 2021 | 17-05-1443 | 06:12 (GMT) | 08:23 (GMT) | 12:08 (GMT) | 13:37 (GMT) | 15:52 (GMT) | 15:52 (GMT) | 17:56 (GMT) |
| 23 Dec 2021 | 18-05-1443 | 06:12 (GMT) | 08:24 (GMT) | 12:08 (GMT) | 13:38 (GMT) | 15:53 (GMT) | 15:53 (GMT) | 17:57 (GMT) |
| 24 Dec 2021 | 19-05-1443 | 06:13 (GMT) | 08:24 (GMT) | 12:09 (GMT) | 13:38 (GMT) | 15:53 (GMT) | 15:53 (GMT) | 17:58 (GMT) |
| 25 Dec 2021 | 20-05-1443 | 06:13 (GMT) | 08:24 (GMT) | 12:09 (GMT) | 13:39 (GMT) | 15:54 (GMT) | 15:54 (GMT) | 17:58 (GMT) |
| 26 Dec 2021 | 21-05-1443 | 06:13 (GMT) | 08:25 (GMT) | 12:10 (GMT) | 13:39 (GMT) | 15:55 (GMT) | 15:55 (GMT) | 17:59 (GMT) |
| 27 Dec 2021 | 22-05-1443 | 06:14 (GMT) | 08:25 (GMT) | 12:10 (GMT) | 13:40 (GMT) | 15:56 (GMT) | 15:56 (GMT) | 18:00 (GMT) |
| 28 Dec 2021 | 23-05-1443 | 06:14 (GMT) | 08:25 (GMT) | 12:11 (GMT) | 13:41 (GMT) | 15:56 (GMT) | 15:56 (GMT) | 18:00 (GMT) |
| 29 Dec 2021 | 24-05-1443 | 06:14 (GMT) | 08:25 (GMT) | 12:11 (GMT) | 13:42 (GMT) | 15:57 (GMT) | 15:57 (GMT) | 18:01 (GMT) |
| 30 Dec 2021 | 25-05-1443 | 06:14 (GMT) | 08:25 (GMT) | 12:12 (GMT) | 13:42 (GMT) | 15:58 (GMT) | 15:58 (GMT) | 18:02 (GMT) |
| 31 Dec 2021 | 26-05-1443 | 06:14 (GMT) | 08:25 (GMT) | 12:12 (GMT) | 13:43 (GMT) | 15:59 (GMT) | 15:59 (GMT) | 18:03 (GMT) |
Local Parliamentary Information
The Local MP for this Masjid is Lucy Powell MP for Manchester Central

You Local MP is part of the Labour (Co-op) Party
Your can contact your Local MP on: , contact@lucypowell.org.uk or telephone them on: 0161 232 0872, 020 7219 4402