Please enter a valid UK Address:
Chapter: 2 Sura: 100 Verse: Is it not a fact that every time they made a covenant, some of them cast it away? Rather most of them have no (true) faith....- Read the Verse/ The Holy Quran

Help Palastine! It takes 5 minutes to contact your MP please CLICK HERE TO CONTACT YOUR MP Now!
---
The Dropped Pin Quaker Centre (Wanstead, Redbridge, London)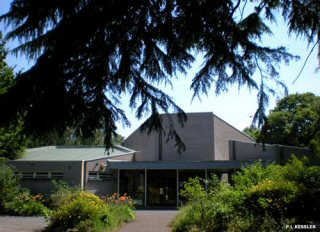 The Dropped Pin Quaker Centre
ADDRESS: The Dropped Pin Quaker Centre aka Wanstead Quaker Meeting House, Bush Road, London, Wanstead, London, Greater London, E11 3AU
TEL: 020 8989 4511 (Centre, not jumuah organisers) FAX: none GENDER: Unknown TYPE: Multi Faith/Prayer Room/Hired Hall
Data Accuracy: C- Masjid with a single reliable source of information.
Information
FOLLOWING : Unknown MANAGEMENT :
Pakistani MASJID CAPACITY : 500
Other Masjid Names: Wanstead Quaker Meeting
Travel Information
Here you will find the local travel information on how to get to the Masjid/Mosque
All London Bus Stops 0.2 Miles Away From the Masjid/Mosque
| | | |
| --- | --- | --- |
| | W19 | BUSH ROAD / GREEN MAN ROUNDABOUT Distance: 0.029 |
| | 145 | BUSH ROAD / GREEN MAN ROUNDABOUT Distance: 0.0367 |
| | N8 | BUSH ROAD / GREEN MAN ROUNDABOUT Distance: 0.0367 |
| | W19 | BUSH ROAD / GREEN MAN ROUNDABOUT Distance: 0.0367 |
| | 66 | GREEN MAN ROUNDABOUT Distance: 0.1348 |
| | 145 | GREEN MAN ROUNDABOUT Distance: 0.1348 |
| | 257 | GREEN MAN ROUNDABOUT Distance: 0.1348 |
| | N8 | GREEN MAN ROUNDABOUT Distance: 0.1348 |
| | W13 | GREEN MAN ROUNDABOUT Distance: 0.1348 |
| | W14 | GREEN MAN ROUNDABOUT Distance: 0.1348 |
| | W19 | GREEN MAN ROUNDABOUT Distance: 0.1348 |
| | 66 | GREEN MAN ROUNDABOUT Distance: 0.1599 |
| | 145 | GREEN MAN ROUNDABOUT Distance: 0.1599 |
| | 257 | GREEN MAN ROUNDABOUT Distance: 0.1599 |
| | N8 | GREEN MAN ROUNDABOUT Distance: 0.1599 |
| | W13 | GREEN MAN ROUNDABOUT Distance: 0.1599 |
| | W14 | GREEN MAN ROUNDABOUT Distance: 0.1599 |
| | W19 | GREEN MAN ROUNDABOUT Distance: 0.1599 |
| | 145 | CAMBRIDGE ROAD Distance: 0.1941 |
| | N55 | CAMBRIDGE ROAD Distance: 0.1941 |
| | N8 | CAMBRIDGE ROAD Distance: 0.1941 |
| | W13 | CAMBRIDGE ROAD Distance: 0.1941 |
| | W14 | CAMBRIDGE ROAD Distance: 0.1941 |
List of London Underground Stations close to the Masjid/Mosque, within 3 miles radius
| | | |
| --- | --- | --- |
| | Leytonstone Station | Distance: 0.4998 |
| | Wanstead Station | Distance: 0.5691 |
| | Snaresbrook Station | Distance: 0.7845 |
| | Redbridge Station | Distance: 1.2017 |
| | Leyton Station | Distance: 1.4131 |
| | South Woodford Station | Distance: 1.5685 |
| | Walthamstow Central Station | Distance: 1.9358 |
List of Railway Stations close to the Masjid/Mosque, within 5 miles radius
| | | |
| --- | --- | --- |
| | Leytonstone High Road Railway Station | Distance: 0.679 |
| | Leyton Midland Road Railway Station | Distance: 1.1903 |
| | Forest Gate Railway Station | Distance: 1.4064 |
| | Wood Street Railway Station | Distance: 1.5738 |
| | Manor Park Railway Station | Distance: 1.6071 |
| | Maryland Railway Station | Distance: 1.7435 |
| | Wanstead Park Railway Station | Distance: 1.7599 |
| | Woodgrange Park Railway Station | Distance: 1.8159 |
| | St James St Walthamstow Railway Station | Distance: 1.9906 |
| | Walthamstow Queens Road Railway Station | Distance: 1.9984 |
Masjid/Mosque Weather Report
Leytonstone London UK
2021-09-24 8:10

Temperature
13 ℃ (55.4 ℉)
Wind
8.1mph (13kpm) Miles Per Hour
240 Wind Degree
WSW Wind Direction
9.6mph (15.5kpm) Gust Miles Per Hour
Weather Report
Today on September 24, 2021 the tempreture will be 13℃ (55.4 ℉), when you go outside the weather will feel like 12.3 ℃ (54.1 ℉) the wind will be 8.1mph (13kpm) and humidity will be 94
Notes / Additional information
Masjid Prayer Timetable
In Islam muslims are required to prayer five times a day, each prayer can be measured in units and every prayer comrpomised with different set of units depending on the time of prayer, click here to learn more about how we calculate the prayer times for the masjids
| Date | Hijri | Fajar | Sunrise | Dhuhr | Asr | Sunset | Maghrib | Isha |
| --- | --- | --- | --- | --- | --- | --- | --- | --- |
| 01 Sep 2021 | 23-01-1443 | 04:07 (BST) | 06:13 (BST) | 13:00 (BST) | 16:43 (BST) | 19:46 (BST) | 19:46 (BST) | 21:43 (BST) |
| 02 Sep 2021 | 24-01-1443 | 04:10 (BST) | 06:14 (BST) | 13:00 (BST) | 16:42 (BST) | 19:44 (BST) | 19:44 (BST) | 21:40 (BST) |
| 03 Sep 2021 | 25-01-1443 | 04:12 (BST) | 06:16 (BST) | 12:59 (BST) | 16:40 (BST) | 19:42 (BST) | 19:42 (BST) | 21:37 (BST) |
| 04 Sep 2021 | 26-01-1443 | 04:14 (BST) | 06:17 (BST) | 12:59 (BST) | 16:39 (BST) | 19:39 (BST) | 19:39 (BST) | 21:34 (BST) |
| 05 Sep 2021 | 27-01-1443 | 04:17 (BST) | 06:19 (BST) | 12:59 (BST) | 16:38 (BST) | 19:37 (BST) | 19:37 (BST) | 21:31 (BST) |
| 06 Sep 2021 | 28-01-1443 | 04:19 (BST) | 06:21 (BST) | 12:58 (BST) | 16:36 (BST) | 19:35 (BST) | 19:35 (BST) | 21:28 (BST) |
| 07 Sep 2021 | 29-01-1443 | 04:21 (BST) | 06:22 (BST) | 12:58 (BST) | 16:35 (BST) | 19:33 (BST) | 19:33 (BST) | 21:25 (BST) |
| 08 Sep 2021 | 30-01-1443 | 04:23 (BST) | 06:24 (BST) | 12:58 (BST) | 16:33 (BST) | 19:30 (BST) | 19:30 (BST) | 21:23 (BST) |
| 09 Sep 2021 | 01-02-1443 | 04:26 (BST) | 06:25 (BST) | 12:57 (BST) | 16:32 (BST) | 19:28 (BST) | 19:28 (BST) | 21:20 (BST) |
| 10 Sep 2021 | 02-02-1443 | 04:28 (BST) | 06:27 (BST) | 12:57 (BST) | 16:30 (BST) | 19:26 (BST) | 19:26 (BST) | 21:17 (BST) |
| 11 Sep 2021 | 03-02-1443 | 04:30 (BST) | 06:29 (BST) | 12:56 (BST) | 16:29 (BST) | 19:23 (BST) | 19:23 (BST) | 21:14 (BST) |
| 12 Sep 2021 | 04-02-1443 | 04:32 (BST) | 06:30 (BST) | 12:56 (BST) | 16:27 (BST) | 19:21 (BST) | 19:21 (BST) | 21:11 (BST) |
| 13 Sep 2021 | 05-02-1443 | 04:34 (BST) | 06:32 (BST) | 12:56 (BST) | 16:26 (BST) | 19:19 (BST) | 19:19 (BST) | 21:09 (BST) |
| 14 Sep 2021 | 06-02-1443 | 04:36 (BST) | 06:33 (BST) | 12:55 (BST) | 16:24 (BST) | 19:16 (BST) | 19:16 (BST) | 21:06 (BST) |
| 15 Sep 2021 | 07-02-1443 | 04:38 (BST) | 06:35 (BST) | 12:55 (BST) | 16:22 (BST) | 19:14 (BST) | 19:14 (BST) | 21:03 (BST) |
| 16 Sep 2021 | 08-02-1443 | 04:40 (BST) | 06:37 (BST) | 12:55 (BST) | 16:21 (BST) | 19:12 (BST) | 19:12 (BST) | 21:01 (BST) |
| 17 Sep 2021 | 09-02-1443 | 04:42 (BST) | 06:38 (BST) | 12:54 (BST) | 16:19 (BST) | 19:10 (BST) | 19:10 (BST) | 20:58 (BST) |
| 18 Sep 2021 | 10-02-1443 | 04:44 (BST) | 06:40 (BST) | 12:54 (BST) | 16:18 (BST) | 19:07 (BST) | 19:07 (BST) | 20:55 (BST) |
| 19 Sep 2021 | 11-02-1443 | 04:46 (BST) | 06:41 (BST) | 12:54 (BST) | 16:16 (BST) | 19:05 (BST) | 19:05 (BST) | 20:53 (BST) |
| 20 Sep 2021 | 12-02-1443 | 04:48 (BST) | 06:43 (BST) | 12:53 (BST) | 16:14 (BST) | 19:03 (BST) | 19:03 (BST) | 20:50 (BST) |
| 21 Sep 2021 | 13-02-1443 | 04:50 (BST) | 06:45 (BST) | 12:53 (BST) | 16:13 (BST) | 19:00 (BST) | 19:00 (BST) | 20:47 (BST) |
| 22 Sep 2021 | 14-02-1443 | 04:52 (BST) | 06:46 (BST) | 12:53 (BST) | 16:11 (BST) | 18:58 (BST) | 18:58 (BST) | 20:45 (BST) |
| 23 Sep 2021 | 15-02-1443 | 04:54 (BST) | 06:48 (BST) | 12:52 (BST) | 16:09 (BST) | 18:56 (BST) | 18:56 (BST) | 20:42 (BST) |
| 24 Sep 2021 | 16-02-1443 | 04:56 (BST) | 06:49 (BST) | 12:52 (BST) | 16:08 (BST) | 18:53 (BST) | 18:53 (BST) | 20:40 (BST) |
| 25 Sep 2021 | 17-02-1443 | 04:58 (BST) | 06:51 (BST) | 12:52 (BST) | 16:06 (BST) | 18:51 (BST) | 18:51 (BST) | 20:37 (BST) |
| 26 Sep 2021 | 18-02-1443 | 05:00 (BST) | 06:53 (BST) | 12:51 (BST) | 16:04 (BST) | 18:49 (BST) | 18:49 (BST) | 20:35 (BST) |
| 27 Sep 2021 | 19-02-1443 | 05:01 (BST) | 06:54 (BST) | 12:51 (BST) | 16:03 (BST) | 18:46 (BST) | 18:46 (BST) | 20:32 (BST) |
| 28 Sep 2021 | 20-02-1443 | 05:03 (BST) | 06:56 (BST) | 12:50 (BST) | 16:01 (BST) | 18:44 (BST) | 18:44 (BST) | 20:30 (BST) |
| 29 Sep 2021 | 21-02-1443 | 05:05 (BST) | 06:58 (BST) | 12:50 (BST) | 15:59 (BST) | 18:42 (BST) | 18:42 (BST) | 20:27 (BST) |
| 30 Sep 2021 | 22-02-1443 | 05:07 (BST) | 06:59 (BST) | 12:50 (BST) | 15:58 (BST) | 18:40 (BST) | 18:40 (BST) | 20:25 (BST) |
Local Parliamentary Information
The Local MP for this Masjid is John Cryer MP for Leyton and Wanstead

You Local MP is part of the Labour Party
Your can contact your Local MP on: , john.cryer.mp@parliament.uk or telephone them on: 020 8989 5249, 020 7219 7100