Please enter a valid UK Address:
Chapter: 2 Sura: 251 Verse: At last, they routed them by the leave of Allâh, and David killed Jâlût, and Allâh gave him the sovereignty and the wisdom and taught him of what He pleased. An...- Read the Verse/ The Holy Quran

Help Palastine! It takes 5 minutes to contact your MP please CLICK HERE TO CONTACT YOUR MP Now!
---
Azizia Mosque (Stoke Newington, Hackney)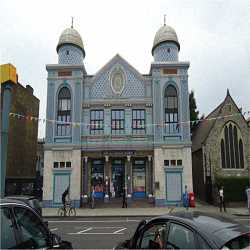 Azizia Mosque
ADDRESS: 117-119 Stoke Newington Road, Stoke Newington, London, Greater London, N16 8BU
TEL: 020 7254 0046, 020 7923 3003 FAX: none GENDER: Male / Female TYPE: Masjid/Mosque
Data Accuracy: A- Reasonably recent first hand knowledge of the masjid
Information
FOLLOWING : Sufi - Turkish MANAGEMENT :
Turkish MASJID CAPACITY : 2000
Other Masjid Names: Aziziye Mosque, UK Turkish Islamic Association
Travel Information
Here you will find the local travel information on how to get to the Masjid/Mosque
All London Bus Stops 0.2 Miles Away From the Masjid/Mosque
| | | |
| --- | --- | --- |
| | 67 | AMHURST ROAD Distance: 0.0796 |
| | 76 | AMHURST ROAD Distance: 0.0796 |
| | 149 | AMHURST ROAD Distance: 0.0796 |
| | 243 | AMHURST ROAD Distance: 0.0796 |
| | N76 | AMHURST ROAD Distance: 0.0796 |
| | 67 | STOKE NEWINGTON ROAD / AMHURST ROAD Distance: 0.0953 |
| | 76 | STOKE NEWINGTON ROAD / AMHURST ROAD Distance: 0.0953 |
| | 149 | STOKE NEWINGTON ROAD / AMHURST ROAD Distance: 0.0953 |
| | 243 | STOKE NEWINGTON ROAD / AMHURST ROAD Distance: 0.0953 |
| | N76 | STOKE NEWINGTON ROAD / AMHURST ROAD Distance: 0.0953 |
| | 67 | PRINCESS MAY ROAD Distance: 0.1774 |
| | 76 | PRINCESS MAY ROAD Distance: 0.1774 |
| | 149 | PRINCESS MAY ROAD Distance: 0.1774 |
| | 243 | PRINCESS MAY ROAD Distance: 0.1774 |
| | N76 | PRINCESS MAY ROAD Distance: 0.1774 |
| | 67 | STOKE NEWINGTON POLICE STATION Distance: 0.1803 |
| | 76 | STOKE NEWINGTON POLICE STATION Distance: 0.1803 |
| | 149 | STOKE NEWINGTON POLICE STATION Distance: 0.1803 |
| | 243 | STOKE NEWINGTON POLICE STATION Distance: 0.1803 |
| | 276 | STOKE NEWINGTON POLICE STATION Distance: 0.1803 |
| | N76 | STOKE NEWINGTON POLICE STATION Distance: 0.1803 |
List of London Underground Stations close to the Masjid/Mosque, within 3 miles radius
| | | |
| --- | --- | --- |
| | Arsenal Station | Distance: 1.3449 |
| | Highbury & Islington Station | Distance: 1.3886 |
| | Manor House Station | Distance: 1.4033 |
| | Finsbury Park Station | Distance: 1.5014 |
| | Holloway Road Station | Distance: 1.6397 |
| | Caledonian Road Station | Distance: 1.9192 |
| | Seven Sisters Station | Distance: 1.9568 |
List of Railway Stations close to the Masjid/Mosque, within 5 miles radius
| | | |
| --- | --- | --- |
| | Rectory Road Railway Station | Distance: 0.38 |
| | Dalston Junction Railway Station | Distance: 0.4462 |
| | Stoke Newington Railway Station | Distance: 0.67 |
| | Hackney Downs Railway Station | Distance: 0.7889 |
| | Cannon Street (London) Railway Station | Distance: 0.8946 |
| | Clapham Junction Railway Station | Distance: 0.9714 |
| | Drayton Park Railway Station | Distance: 0.9833 |
| | London Fields Railway Station | Distance: 1.2383 |
| | Essex Road Railway Station | Distance: 1.3576 |
| | Stamford Hill Railway Station | Distance: 1.4218 |
| | Highbury and Islington Railway Station | Distance: 1.4431 |
| | Finsbury Park Railway Station | Distance: 1.4654 |
| | Homerton Railway Station | Distance: 1.5164 |
| | Hackney Central Railway Station | Distance: 1.666 |
| | South Tottenham Railway Station | Distance: 1.7545 |
| | Cambridge Railway Station | Distance: 1.7638 |
| | Harringay Railway Station | Distance: 1.8258 |
| | Caldicot Railway Station | Distance: 1.8958 |
| | Seven Sisters Railway Station | Distance: 1.9892 |
Masjid/Mosque Weather Report
Stoke Newington London UK
2022-01-28 15:59

Temperature
9 ℃ (48.2 ℉)
Wind
11.9mph (19.1kpm) Miles Per Hour
250 Wind Degree
WSW Wind Direction
11.2mph (18kpm) Gust Miles Per Hour
Weather Report
Today on January 28, 2022 the tempreture will be 9℃ (48.2 ℉), when you go outside the weather will feel like 6.9 ℃ (44.4 ℉) the wind will be 11.9mph (19.1kpm) and humidity will be 71
Masjid Prayer Timetable
In Islam muslims are required to prayer five times a day, each prayer can be measured in units and every prayer comrpomised with different set of units depending on the time of prayer, click here to learn more about how we calculate the prayer times for the masjids
| Date | Hijri | Fajar | Sunrise | Dhuhr | Asr | Sunset | Maghrib | Isha |
| --- | --- | --- | --- | --- | --- | --- | --- | --- |
| 01 Jan 2022 | 27-05-1443 | 06:03 (GMT) | 08:06 (GMT) | 12:04 (GMT) | 13:45 (GMT) | 16:02 (GMT) | 16:02 (GMT) | 17:59 (GMT) |
| 02 Jan 2022 | 28-05-1443 | 06:03 (GMT) | 08:06 (GMT) | 12:04 (GMT) | 13:46 (GMT) | 16:03 (GMT) | 16:03 (GMT) | 18:00 (GMT) |
| 03 Jan 2022 | 29-05-1443 | 06:03 (GMT) | 08:06 (GMT) | 12:05 (GMT) | 13:46 (GMT) | 16:04 (GMT) | 16:04 (GMT) | 18:01 (GMT) |
| 04 Jan 2022 | 30-05-1443 | 06:03 (GMT) | 08:06 (GMT) | 12:05 (GMT) | 13:47 (GMT) | 16:05 (GMT) | 16:05 (GMT) | 18:02 (GMT) |
| 05 Jan 2022 | 01-06-1443 | 06:02 (GMT) | 08:05 (GMT) | 12:06 (GMT) | 13:48 (GMT) | 16:06 (GMT) | 16:06 (GMT) | 18:03 (GMT) |
| 06 Jan 2022 | 02-06-1443 | 06:02 (GMT) | 08:05 (GMT) | 12:06 (GMT) | 13:49 (GMT) | 16:08 (GMT) | 16:08 (GMT) | 18:04 (GMT) |
| 07 Jan 2022 | 03-06-1443 | 06:02 (GMT) | 08:05 (GMT) | 12:07 (GMT) | 13:51 (GMT) | 16:09 (GMT) | 16:09 (GMT) | 18:05 (GMT) |
| 08 Jan 2022 | 04-06-1443 | 06:02 (GMT) | 08:04 (GMT) | 12:07 (GMT) | 13:52 (GMT) | 16:10 (GMT) | 16:10 (GMT) | 18:06 (GMT) |
| 09 Jan 2022 | 05-06-1443 | 06:02 (GMT) | 08:04 (GMT) | 12:07 (GMT) | 13:53 (GMT) | 16:12 (GMT) | 16:12 (GMT) | 18:07 (GMT) |
| 10 Jan 2022 | 06-06-1443 | 06:01 (GMT) | 08:03 (GMT) | 12:08 (GMT) | 13:54 (GMT) | 16:13 (GMT) | 16:13 (GMT) | 18:08 (GMT) |
| 11 Jan 2022 | 07-06-1443 | 06:01 (GMT) | 08:02 (GMT) | 12:08 (GMT) | 13:55 (GMT) | 16:14 (GMT) | 16:14 (GMT) | 18:09 (GMT) |
| 12 Jan 2022 | 08-06-1443 | 06:01 (GMT) | 08:02 (GMT) | 12:09 (GMT) | 13:56 (GMT) | 16:16 (GMT) | 16:16 (GMT) | 18:11 (GMT) |
| 13 Jan 2022 | 09-06-1443 | 06:00 (GMT) | 08:01 (GMT) | 12:09 (GMT) | 13:57 (GMT) | 16:17 (GMT) | 16:17 (GMT) | 18:12 (GMT) |
| 14 Jan 2022 | 10-06-1443 | 06:00 (GMT) | 08:00 (GMT) | 12:09 (GMT) | 13:59 (GMT) | 16:19 (GMT) | 16:19 (GMT) | 18:13 (GMT) |
| 15 Jan 2022 | 11-06-1443 | 05:59 (GMT) | 08:00 (GMT) | 12:10 (GMT) | 14:00 (GMT) | 16:20 (GMT) | 16:20 (GMT) | 18:14 (GMT) |
| 16 Jan 2022 | 12-06-1443 | 05:58 (GMT) | 07:59 (GMT) | 12:10 (GMT) | 14:01 (GMT) | 16:22 (GMT) | 16:22 (GMT) | 18:16 (GMT) |
| 17 Jan 2022 | 13-06-1443 | 05:58 (GMT) | 07:58 (GMT) | 12:10 (GMT) | 14:03 (GMT) | 16:24 (GMT) | 16:24 (GMT) | 18:17 (GMT) |
| 18 Jan 2022 | 14-06-1443 | 05:57 (GMT) | 07:57 (GMT) | 12:11 (GMT) | 14:04 (GMT) | 16:25 (GMT) | 16:25 (GMT) | 18:18 (GMT) |
| 19 Jan 2022 | 15-06-1443 | 05:56 (GMT) | 07:56 (GMT) | 12:11 (GMT) | 14:05 (GMT) | 16:27 (GMT) | 16:27 (GMT) | 18:20 (GMT) |
| 20 Jan 2022 | 16-06-1443 | 05:56 (GMT) | 07:55 (GMT) | 12:11 (GMT) | 14:07 (GMT) | 16:29 (GMT) | 16:29 (GMT) | 18:21 (GMT) |
| 21 Jan 2022 | 17-06-1443 | 05:55 (GMT) | 07:54 (GMT) | 12:12 (GMT) | 14:08 (GMT) | 16:30 (GMT) | 16:30 (GMT) | 18:22 (GMT) |
| 22 Jan 2022 | 18-06-1443 | 05:54 (GMT) | 07:53 (GMT) | 12:12 (GMT) | 14:09 (GMT) | 16:32 (GMT) | 16:32 (GMT) | 18:24 (GMT) |
| 23 Jan 2022 | 19-06-1443 | 05:53 (GMT) | 07:51 (GMT) | 12:12 (GMT) | 14:11 (GMT) | 16:34 (GMT) | 16:34 (GMT) | 18:25 (GMT) |
| 24 Jan 2022 | 20-06-1443 | 05:52 (GMT) | 07:50 (GMT) | 12:12 (GMT) | 14:12 (GMT) | 16:35 (GMT) | 16:35 (GMT) | 18:27 (GMT) |
| 25 Jan 2022 | 21-06-1443 | 05:51 (GMT) | 07:49 (GMT) | 12:13 (GMT) | 14:14 (GMT) | 16:37 (GMT) | 16:37 (GMT) | 18:28 (GMT) |
| 26 Jan 2022 | 22-06-1443 | 05:50 (GMT) | 07:48 (GMT) | 12:13 (GMT) | 14:15 (GMT) | 16:39 (GMT) | 16:39 (GMT) | 18:30 (GMT) |
| 27 Jan 2022 | 23-06-1443 | 05:49 (GMT) | 07:46 (GMT) | 12:13 (GMT) | 14:16 (GMT) | 16:41 (GMT) | 16:41 (GMT) | 18:31 (GMT) |
| 28 Jan 2022 | 24-06-1443 | 05:48 (GMT) | 07:45 (GMT) | 12:13 (GMT) | 14:18 (GMT) | 16:42 (GMT) | 16:42 (GMT) | 18:33 (GMT) |
| 29 Jan 2022 | 25-06-1443 | 05:47 (GMT) | 07:43 (GMT) | 12:13 (GMT) | 14:19 (GMT) | 16:44 (GMT) | 16:44 (GMT) | 18:34 (GMT) |
| 30 Jan 2022 | 26-06-1443 | 05:46 (GMT) | 07:42 (GMT) | 12:14 (GMT) | 14:21 (GMT) | 16:46 (GMT) | 16:46 (GMT) | 18:36 (GMT) |
| 31 Jan 2022 | 27-06-1443 | 05:45 (GMT) | 07:40 (GMT) | 12:14 (GMT) | 14:22 (GMT) | 16:48 (GMT) | 16:48 (GMT) | 18:37 (GMT) |
Local Parliamentary Information
The Local MP for this Masjid is Rt Hon Diane Abbott MP for Hackney North and Stoke Newington

You Local MP is part of the Labour Party
Your can contact your Local MP on: diane.abbott.office@parliament.uk or telephone them on: 020 7219 4426