Please enter a valid UK Address:
Chapter: 2 Sura: 207 Verse: Of the people there is he who sacrifices his very life seeking the pleasure of Allâh. And Allâh is very Kind and Compassionate toward such (of His) servants....- Read the Verse/ The Holy Quran

Help Palastine! It takes 5 minutes to contact your MP please CLICK HERE TO CONTACT YOUR MP Now!
---
Uthmani Masjid (Spinney Hills, Leicester, Leicestershire)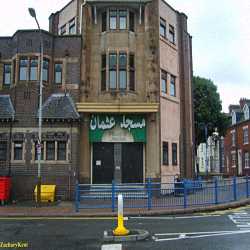 Uthmani Masjid
ADDRESS: Park Vale Works, 308 St Saviours Road, Spinney Hills , Leicester, Leicestershire, LE5 4HJ
TEL: 07967 770089 FAX: none GENDER: Unknown TYPE: Masjid/Mosque
Data Accuracy: A- Reasonably recent first hand knowledge of the masjid
Information
FOLLOWING : Sufi - Bareilvi MASJID CAPACITY : 1000
Other Masjid Names: Uthmani Masjid, Usmani Mosque
View Charity No: 1089411
Travel Information
Here you will find the local travel information on how to get to the Masjid/Mosque
List of Railway Stations close to the Masjid/Mosque, within 5 miles radius
| | | |
| --- | --- | --- |
| | Leicester Railway Station | Distance: 1.2352 |
Masjid/Mosque Weather Report
Leicester Leicestershire UK
2022-01-28 16:08

Temperature
8 ℃ (46.4 ℉)
Wind
13.6mph (22kpm) Miles Per Hour
230 Wind Degree
SW Wind Direction
18.8mph (30.2kpm) Gust Miles Per Hour
Weather Report
Today on January 28, 2022 the tempreture will be 8℃ (46.4 ℉), when you go outside the weather will feel like 4.8 ℃ (40.7 ℉) the wind will be 13.6mph (22kpm) and humidity will be 81
Notes / Additional information
Former Park Vale Works, Formerly factory of Top Scene UK Ltd and of Rock Island Ltd.
Junction of Kitchener Road
Premises was formerly: Industrial site
Masjid Prayer Timetable
In Islam muslims are required to prayer five times a day, each prayer can be measured in units and every prayer comrpomised with different set of units depending on the time of prayer, click here to learn more about how we calculate the prayer times for the masjids
| Date | Hijri | Fajar | Sunrise | Dhuhr | Asr | Sunset | Maghrib | Isha |
| --- | --- | --- | --- | --- | --- | --- | --- | --- |
| 01 Jan 2022 | 27-05-1443 | 06:08 (GMT) | 08:16 (GMT) | 12:08 (GMT) | 13:44 (GMT) | 16:00 (GMT) | 16:00 (GMT) | 18:01 (GMT) |
| 02 Jan 2022 | 28-05-1443 | 06:08 (GMT) | 08:16 (GMT) | 12:08 (GMT) | 13:45 (GMT) | 16:02 (GMT) | 16:02 (GMT) | 18:02 (GMT) |
| 03 Jan 2022 | 29-05-1443 | 06:08 (GMT) | 08:15 (GMT) | 12:09 (GMT) | 13:46 (GMT) | 16:03 (GMT) | 16:03 (GMT) | 18:03 (GMT) |
| 04 Jan 2022 | 30-05-1443 | 06:08 (GMT) | 08:15 (GMT) | 12:09 (GMT) | 13:47 (GMT) | 16:04 (GMT) | 16:04 (GMT) | 18:04 (GMT) |
| 05 Jan 2022 | 01-06-1443 | 06:08 (GMT) | 08:15 (GMT) | 12:10 (GMT) | 13:48 (GMT) | 16:05 (GMT) | 16:05 (GMT) | 18:05 (GMT) |
| 06 Jan 2022 | 02-06-1443 | 06:08 (GMT) | 08:14 (GMT) | 12:10 (GMT) | 13:49 (GMT) | 16:06 (GMT) | 16:06 (GMT) | 18:06 (GMT) |
| 07 Jan 2022 | 03-06-1443 | 06:08 (GMT) | 08:14 (GMT) | 12:11 (GMT) | 13:50 (GMT) | 16:08 (GMT) | 16:08 (GMT) | 18:07 (GMT) |
| 08 Jan 2022 | 04-06-1443 | 06:08 (GMT) | 08:13 (GMT) | 12:11 (GMT) | 13:51 (GMT) | 16:09 (GMT) | 16:09 (GMT) | 18:08 (GMT) |
| 09 Jan 2022 | 05-06-1443 | 06:07 (GMT) | 08:13 (GMT) | 12:11 (GMT) | 13:52 (GMT) | 16:11 (GMT) | 16:11 (GMT) | 18:09 (GMT) |
| 10 Jan 2022 | 06-06-1443 | 06:07 (GMT) | 08:12 (GMT) | 12:12 (GMT) | 13:53 (GMT) | 16:12 (GMT) | 16:12 (GMT) | 18:10 (GMT) |
| 11 Jan 2022 | 07-06-1443 | 06:07 (GMT) | 08:12 (GMT) | 12:12 (GMT) | 13:54 (GMT) | 16:13 (GMT) | 16:13 (GMT) | 18:12 (GMT) |
| 12 Jan 2022 | 08-06-1443 | 06:06 (GMT) | 08:11 (GMT) | 12:13 (GMT) | 13:56 (GMT) | 16:15 (GMT) | 16:15 (GMT) | 18:13 (GMT) |
| 13 Jan 2022 | 09-06-1443 | 06:06 (GMT) | 08:10 (GMT) | 12:13 (GMT) | 13:57 (GMT) | 16:17 (GMT) | 16:17 (GMT) | 18:14 (GMT) |
| 14 Jan 2022 | 10-06-1443 | 06:05 (GMT) | 08:09 (GMT) | 12:13 (GMT) | 13:58 (GMT) | 16:18 (GMT) | 16:18 (GMT) | 18:15 (GMT) |
| 15 Jan 2022 | 11-06-1443 | 06:05 (GMT) | 08:08 (GMT) | 12:14 (GMT) | 13:59 (GMT) | 16:20 (GMT) | 16:20 (GMT) | 18:17 (GMT) |
| 16 Jan 2022 | 12-06-1443 | 06:04 (GMT) | 08:08 (GMT) | 12:14 (GMT) | 14:01 (GMT) | 16:21 (GMT) | 16:21 (GMT) | 18:18 (GMT) |
| 17 Jan 2022 | 13-06-1443 | 06:03 (GMT) | 08:07 (GMT) | 12:14 (GMT) | 14:02 (GMT) | 16:23 (GMT) | 16:23 (GMT) | 18:19 (GMT) |
| 18 Jan 2022 | 14-06-1443 | 06:03 (GMT) | 08:06 (GMT) | 12:15 (GMT) | 14:03 (GMT) | 16:25 (GMT) | 16:25 (GMT) | 18:21 (GMT) |
| 19 Jan 2022 | 15-06-1443 | 06:02 (GMT) | 08:04 (GMT) | 12:15 (GMT) | 14:05 (GMT) | 16:26 (GMT) | 16:26 (GMT) | 18:22 (GMT) |
| 20 Jan 2022 | 16-06-1443 | 06:01 (GMT) | 08:03 (GMT) | 12:15 (GMT) | 14:06 (GMT) | 16:28 (GMT) | 16:28 (GMT) | 18:24 (GMT) |
| 21 Jan 2022 | 17-06-1443 | 06:00 (GMT) | 08:02 (GMT) | 12:16 (GMT) | 14:08 (GMT) | 16:30 (GMT) | 16:30 (GMT) | 18:25 (GMT) |
| 22 Jan 2022 | 18-06-1443 | 05:59 (GMT) | 08:01 (GMT) | 12:16 (GMT) | 14:09 (GMT) | 16:32 (GMT) | 16:32 (GMT) | 18:27 (GMT) |
| 23 Jan 2022 | 19-06-1443 | 05:58 (GMT) | 08:00 (GMT) | 12:16 (GMT) | 14:10 (GMT) | 16:33 (GMT) | 16:33 (GMT) | 18:28 (GMT) |
| 24 Jan 2022 | 20-06-1443 | 05:57 (GMT) | 07:58 (GMT) | 12:16 (GMT) | 14:12 (GMT) | 16:35 (GMT) | 16:35 (GMT) | 18:30 (GMT) |
| 25 Jan 2022 | 21-06-1443 | 05:56 (GMT) | 07:57 (GMT) | 12:17 (GMT) | 14:13 (GMT) | 16:37 (GMT) | 16:37 (GMT) | 18:31 (GMT) |
| 26 Jan 2022 | 22-06-1443 | 05:55 (GMT) | 07:56 (GMT) | 12:17 (GMT) | 14:15 (GMT) | 16:39 (GMT) | 16:39 (GMT) | 18:33 (GMT) |
| 27 Jan 2022 | 23-06-1443 | 05:54 (GMT) | 07:54 (GMT) | 12:17 (GMT) | 14:16 (GMT) | 16:41 (GMT) | 16:41 (GMT) | 18:34 (GMT) |
| 28 Jan 2022 | 24-06-1443 | 05:53 (GMT) | 07:53 (GMT) | 12:17 (GMT) | 14:18 (GMT) | 16:43 (GMT) | 16:43 (GMT) | 18:36 (GMT) |
| 29 Jan 2022 | 25-06-1443 | 05:52 (GMT) | 07:51 (GMT) | 12:17 (GMT) | 14:19 (GMT) | 16:44 (GMT) | 16:44 (GMT) | 18:37 (GMT) |
| 30 Jan 2022 | 26-06-1443 | 05:51 (GMT) | 07:50 (GMT) | 12:18 (GMT) | 14:21 (GMT) | 16:46 (GMT) | 16:46 (GMT) | 18:39 (GMT) |
| 31 Jan 2022 | 27-06-1443 | 05:49 (GMT) | 07:48 (GMT) | 12:18 (GMT) | 14:22 (GMT) | 16:48 (GMT) | 16:48 (GMT) | 18:40 (GMT) |
Local Parliamentary Information
The Local MP for this Masjid is Claudia Webbe MP for Leicester East

You Local MP is part of the Independent Party
Your can contact your Local MP on: claudia.webbe.mp@parliament.uk or telephone them on: 0207 219 3000