Please enter a valid UK Address:
Chapter: 2 Sura: 121 Verse: They (- the true Muslims), to whom We have given the Book, follow it as it deserves to be followed. It is they who truly believe in it. And whoso does not believe therein, these ar...- Read the Verse/ The Holy Quran
Ramadan Kareem! Salaam Brothers and Sisters this year Ramadan will start Tuesday, 13 April 2021
---
Masjid-al-Farooq (Leicester, Leicestershire)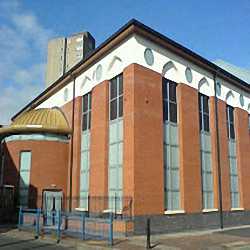 Masjid-al-Farooq
ADDRESS: 120 Melbourne Road, Leicester, Leicestershire, LE2 0DS
TEL: 0116 262 5440 FAX: 0116 242 5016 GENDER: Male (Only) TYPE: Masjid/Mosque
Data Accuracy: A- Reasonably recent first hand knowledge of the masjid
Information
FOLLOWING : Sunni - Deobandi MANAGEMENT :
Gujarati MASJID CAPACITY : 500
Other Masjid Names: Jame'ah Riyadul Uloom Islamic Da'wah Academy, Masjid Al Faruq, IDA, Riyadul Jannah magazine, Islamic Dawah Academy
Travel Information
Here you will find the local travel information on how to get to the Masjid/Mosque
List of Railway Stations close to the Masjid/Mosque, within 5 miles radius
| | | |
| --- | --- | --- |
| | Leicester Railway Station | Distance: 0.4306 |
Masjid/Mosque Weather Report
Leicester Leicestershire UK
2021-05-14 8:57

Temperature
8 ℃ (46.4 ℉)
Wind
6.9mph (11.2kpm) Miles Per Hour
30 Wind Degree
NNE Wind Direction
8.9mph (14.4kpm) Gust Miles Per Hour
Weather Report
Today on May 14, 2021 the tempreture will be 8℃ (46.4 ℉), when you go outside the weather will feel like 6.3 ℃ (43.3 ℉) the wind will be 6.9mph (11.2kpm) and humidity will be 87
Notes / Additional information
Moved from Former St Hilda's school, 120 Melbourne Road into purpose-built masjid.
Premises was formerly: Derelict land
Masjid Prayer Timetable
In Islam muslims are required to prayer five times a day, each prayer can be measured in units and every prayer comrpomised with different set of units depending on the time of prayer, click here to learn more about how we calculate the prayer times for the masjids
| Date | Hijri | Fajar | Sunrise | Dhuhr | Asr | Sunset | Maghrib | Isha |
| --- | --- | --- | --- | --- | --- | --- | --- | --- |
| 01 May 2021 | 19-09-1442 | 02:54 (BST) | 05:32 (BST) | 13:02 (BST) | 17:05 (BST) | 20:32 (BST) | 20:32 (BST) | 22:58 (BST) |
| 02 May 2021 | 20-09-1442 | 02:50 (BST) | 05:30 (BST) | 13:01 (BST) | 17:06 (BST) | 20:33 (BST) | 20:33 (BST) | 23:01 (BST) |
| 03 May 2021 | 21-09-1442 | 02:48 (BST) | 05:28 (BST) | 13:01 (BST) | 17:06 (BST) | 20:35 (BST) | 20:35 (BST) | 23:05 (BST) |
| 04 May 2021 | 22-09-1442 | 02:48 (BST) | 05:27 (BST) | 13:01 (BST) | 17:07 (BST) | 20:37 (BST) | 20:37 (BST) | 23:07 (BST) |
| 05 May 2021 | 23-09-1442 | 02:47 (BST) | 05:25 (BST) | 13:01 (BST) | 17:08 (BST) | 20:38 (BST) | 20:38 (BST) | 23:08 (BST) |
| 06 May 2021 | 24-09-1442 | 02:46 (BST) | 05:23 (BST) | 13:01 (BST) | 17:09 (BST) | 20:40 (BST) | 20:40 (BST) | 23:08 (BST) |
| 07 May 2021 | 25-09-1442 | 02:45 (BST) | 05:21 (BST) | 13:01 (BST) | 17:09 (BST) | 20:42 (BST) | 20:42 (BST) | 23:09 (BST) |
| 08 May 2021 | 26-09-1442 | 02:45 (BST) | 05:19 (BST) | 13:01 (BST) | 17:10 (BST) | 20:44 (BST) | 20:44 (BST) | 23:10 (BST) |
| 09 May 2021 | 27-09-1442 | 02:44 (BST) | 05:17 (BST) | 13:01 (BST) | 17:11 (BST) | 20:45 (BST) | 20:45 (BST) | 23:10 (BST) |
| 10 May 2021 | 28-09-1442 | 02:43 (BST) | 05:16 (BST) | 13:01 (BST) | 17:11 (BST) | 20:47 (BST) | 20:47 (BST) | 23:11 (BST) |
| 11 May 2021 | 29-09-1442 | 02:42 (BST) | 05:14 (BST) | 13:01 (BST) | 17:12 (BST) | 20:48 (BST) | 20:48 (BST) | 23:12 (BST) |
| 12 May 2021 | 30-09-1442 | 02:42 (BST) | 05:12 (BST) | 13:01 (BST) | 17:13 (BST) | 20:50 (BST) | 20:50 (BST) | 23:12 (BST) |
| 13 May 2021 | 01-10-1442 | 02:41 (BST) | 05:11 (BST) | 13:01 (BST) | 17:13 (BST) | 20:52 (BST) | 20:52 (BST) | 23:13 (BST) |
| 14 May 2021 | 02-10-1442 | 02:40 (BST) | 05:09 (BST) | 13:01 (BST) | 17:14 (BST) | 20:53 (BST) | 20:53 (BST) | 23:14 (BST) |
| 15 May 2021 | 03-10-1442 | 02:40 (BST) | 05:08 (BST) | 13:01 (BST) | 17:15 (BST) | 20:55 (BST) | 20:55 (BST) | 23:14 (BST) |
| 16 May 2021 | 04-10-1442 | 02:39 (BST) | 05:06 (BST) | 13:01 (BST) | 17:15 (BST) | 20:56 (BST) | 20:56 (BST) | 23:15 (BST) |
| 17 May 2021 | 05-10-1442 | 02:39 (BST) | 05:05 (BST) | 13:01 (BST) | 17:16 (BST) | 20:58 (BST) | 20:58 (BST) | 23:16 (BST) |
| 18 May 2021 | 06-10-1442 | 02:38 (BST) | 05:03 (BST) | 13:01 (BST) | 17:16 (BST) | 21:00 (BST) | 21:00 (BST) | 23:17 (BST) |
| 19 May 2021 | 07-10-1442 | 02:37 (BST) | 05:02 (BST) | 13:01 (BST) | 17:17 (BST) | 21:01 (BST) | 21:01 (BST) | 23:17 (BST) |
| 20 May 2021 | 08-10-1442 | 02:37 (BST) | 05:00 (BST) | 13:01 (BST) | 17:18 (BST) | 21:03 (BST) | 21:03 (BST) | 23:18 (BST) |
| 21 May 2021 | 09-10-1442 | 02:36 (BST) | 04:59 (BST) | 13:01 (BST) | 17:18 (BST) | 21:04 (BST) | 21:04 (BST) | 23:19 (BST) |
| 22 May 2021 | 10-10-1442 | 02:36 (BST) | 04:58 (BST) | 13:01 (BST) | 17:19 (BST) | 21:05 (BST) | 21:05 (BST) | 23:19 (BST) |
| 23 May 2021 | 11-10-1442 | 02:35 (BST) | 04:56 (BST) | 13:01 (BST) | 17:19 (BST) | 21:07 (BST) | 21:07 (BST) | 23:20 (BST) |
| 24 May 2021 | 12-10-1442 | 02:35 (BST) | 04:55 (BST) | 13:01 (BST) | 17:20 (BST) | 21:08 (BST) | 21:08 (BST) | 23:21 (BST) |
| 25 May 2021 | 13-10-1442 | 02:35 (BST) | 04:54 (BST) | 13:01 (BST) | 17:20 (BST) | 21:10 (BST) | 21:10 (BST) | 23:21 (BST) |
| 26 May 2021 | 14-10-1442 | 02:34 (BST) | 04:53 (BST) | 13:02 (BST) | 17:21 (BST) | 21:11 (BST) | 21:11 (BST) | 23:22 (BST) |
| 27 May 2021 | 15-10-1442 | 02:34 (BST) | 04:52 (BST) | 13:02 (BST) | 17:22 (BST) | 21:12 (BST) | 21:12 (BST) | 23:22 (BST) |
| 28 May 2021 | 16-10-1442 | 02:33 (BST) | 04:51 (BST) | 13:02 (BST) | 17:22 (BST) | 21:14 (BST) | 21:14 (BST) | 23:23 (BST) |
| 29 May 2021 | 17-10-1442 | 02:33 (BST) | 04:50 (BST) | 13:02 (BST) | 17:23 (BST) | 21:15 (BST) | 21:15 (BST) | 23:24 (BST) |
| 30 May 2021 | 18-10-1442 | 02:33 (BST) | 04:49 (BST) | 13:02 (BST) | 17:23 (BST) | 21:16 (BST) | 21:16 (BST) | 23:24 (BST) |
| 31 May 2021 | 19-10-1442 | 02:33 (BST) | 04:48 (BST) | 13:02 (BST) | 17:24 (BST) | 21:17 (BST) | 21:17 (BST) | 23:25 (BST) |
Local Parliamentary Information
The Local MP for this Masjid is Rt Hon Jonathan Ashworth MP for Leicester South

You Local MP is part of the Labour (Co-op) Party
Your can contact your Local MP on: jon.ashworth.mp@parliament.uk, or telephone them on: 0207 219 3000, 0116 251 1927