Please enter a valid UK Address:
Chapter: 2 Sura: 254 Verse: O you who believe! spend (for the cause of Allâh) out of that which We have provided you with, before there comes the Day wherein there shall be no buying and selling, nor fri...- Read the Verse/ The Holy Quran

Help Palastine! It takes 5 minutes to contact your MP please CLICK HERE TO CONTACT YOUR MP Now!
---
Al-Madina Jamia Masjid (Glodwick, Oldham, Lancashire)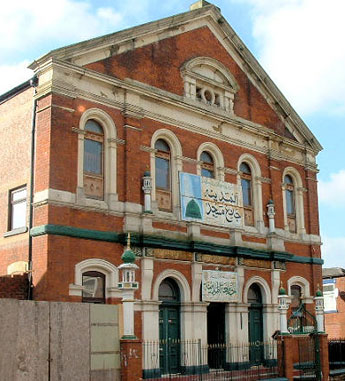 Al-Madina Jamia Masjid
ADDRESS: 230-240 Waterloo Street, St Mary's, Glodwick, Oldham, Lancashire, OL4 1ES
TEL: 0161 627 5213, 0161 627 1431 FAX: none GENDER: Male / Female TYPE: Masjid/Mosque
Data Accuracy: A- Reasonably recent first hand knowledge of the masjid
Information
FOLLOWING : Sufi - Bareilvi MANAGEMENT :
Pakistani MASJID CAPACITY : 500
Other Masjid Names: Educational & Cultural Centre
Video:
See a Video of the Masjid
Travel Information
Here you will find the local travel information on how to get to the Masjid/Mosque
List of Railway Stations close to the Masjid/Mosque, within 5 miles radius
| | | |
| --- | --- | --- |
| | Oldham Mumps Railway Station | Distance: 0.3176 |
| | Derker Railway Station | Distance: 0.8777 |
| | Oldham Werneth Railway Station | Distance: 1.1822 |
Masjid/Mosque Weather Report
Oldham Lancashire UK
2021-07-31 3:41

Temperature
14 ℃ (57.2 ℉)
Wind
8.1mph (13kpm) Miles Per Hour
250 Wind Degree
WSW Wind Direction
6mph (9.7kpm) Gust Miles Per Hour
Weather Report
Today on July 31, 2021 the tempreture will be 14℃ (57.2 ℉), when you go outside the weather will feel like 14.1 ℃ (57.3 ℉) the wind will be 8.1mph (13kpm) and humidity will be 94
Notes / Additional information
The former Trinity Wesleyan Methodist Church on Waterloo Street and Bismarck Street, currently being converted into a mosque
History
Wesleyan Methodism came to Glodwick early, although the preachers were not always well received. The first recorded instance is of the visit of John Valton from Manchester when he preached in the open-air.
Methodism gained a permanent foothold in 1862 when Cottage Services and Class Meetings were held at the home of Robert Allen and his wife, followed by the establishment of another class at the home of Mrs. Naylor. This eventually led to the establishment of a Sunday School and Services in a room at the Mutual Improvement Society, Nuggett Street, in 1863. The numbers of scholars steadily increased until an enforced transfer to an inadequate room started affecting attendance. A decision was made to rent the Old Garrett, Well Fold and the schoolroom was opened there in November 1865 for Sunday School and preaching.
By 1870 there were upwards of 200 scholars and teachers and better accommodation was required. An appeal was launched for the erection of a purpose-built building. In April, 1871 the first School Chapel was opened in Pitt Street, Glodwick.
Eventually it became apparent that a place for worship was needed separate from the classes. A trust was formed and in April 1883 the Trinity Wesleyan Church, Waterloo Street, was opened. The Sunday School classes continued to grow and the Chapel was used for some of them. In 1886 it was decided that a new Sunday School was needed. This was eventually built on Bismarck Street on land adjoining the chapel and was opened in September 1903.
In September 1969 the Methodists moved out of the building. The church was bought by the New Testament Church of God who had been using the schoolrooms for their services. The church was dedicated to the New Testament Church of God on 20 June 1970.
The Sunday School on Bismarck Street also closed in the late 1960s and as Bismarck House it was later used for commercial purposes.
The collection covers the period from 1866 when the meetings were held at the Old Garrett, Well Fold, to 1964 when the Church and Sunday School were a well established part of the community.
The Church was eventually purchased by the Muslim community in Oldham and was converted to a Mosque
Masjid Prayer Timetable
In Islam muslims are required to prayer five times a day, each prayer can be measured in units and every prayer comrpomised with different set of units depending on the time of prayer, click here to learn more about how we calculate the prayer times for the masjids
| Date | Hijri | Fajar | Sunrise | Dhuhr | Asr | Sunset | Maghrib | Isha |
| --- | --- | --- | --- | --- | --- | --- | --- | --- |
| 01 Jul 2021 | 21-11-1442 | 02:37 (BST) | 04:44 (BST) | 13:12 (BST) | 17:39 (BST) | 21:41 (BST) | 21:41 (BST) | 23:40 (BST) |
| 02 Jul 2021 | 22-11-1442 | 02:37 (BST) | 04:45 (BST) | 13:13 (BST) | 17:39 (BST) | 21:40 (BST) | 21:40 (BST) | 23:40 (BST) |
| 03 Jul 2021 | 23-11-1442 | 02:38 (BST) | 04:45 (BST) | 13:13 (BST) | 17:39 (BST) | 21:40 (BST) | 21:40 (BST) | 23:40 (BST) |
| 04 Jul 2021 | 24-11-1442 | 02:38 (BST) | 04:46 (BST) | 13:13 (BST) | 17:39 (BST) | 21:39 (BST) | 21:39 (BST) | 23:40 (BST) |
| 05 Jul 2021 | 25-11-1442 | 02:39 (BST) | 04:47 (BST) | 13:13 (BST) | 17:38 (BST) | 21:39 (BST) | 21:39 (BST) | 23:40 (BST) |
| 06 Jul 2021 | 26-11-1442 | 02:39 (BST) | 04:48 (BST) | 13:13 (BST) | 17:38 (BST) | 21:38 (BST) | 21:38 (BST) | 23:40 (BST) |
| 07 Jul 2021 | 27-11-1442 | 02:40 (BST) | 04:49 (BST) | 13:13 (BST) | 17:38 (BST) | 21:37 (BST) | 21:37 (BST) | 23:40 (BST) |
| 08 Jul 2021 | 28-11-1442 | 02:40 (BST) | 04:50 (BST) | 13:14 (BST) | 17:38 (BST) | 21:36 (BST) | 21:36 (BST) | 23:39 (BST) |
| 09 Jul 2021 | 29-11-1442 | 02:41 (BST) | 04:51 (BST) | 13:14 (BST) | 17:38 (BST) | 21:36 (BST) | 21:36 (BST) | 23:39 (BST) |
| 10 Jul 2021 | 30-11-1442 | 02:41 (BST) | 04:52 (BST) | 13:14 (BST) | 17:38 (BST) | 21:35 (BST) | 21:35 (BST) | 23:39 (BST) |
| 11 Jul 2021 | 01-12-1442 | 02:42 (BST) | 04:54 (BST) | 13:14 (BST) | 17:38 (BST) | 21:34 (BST) | 21:34 (BST) | 23:38 (BST) |
| 12 Jul 2021 | 02-12-1442 | 02:42 (BST) | 04:55 (BST) | 13:14 (BST) | 17:37 (BST) | 21:33 (BST) | 21:33 (BST) | 23:38 (BST) |
| 13 Jul 2021 | 03-12-1442 | 02:43 (BST) | 04:56 (BST) | 13:14 (BST) | 17:37 (BST) | 21:32 (BST) | 21:32 (BST) | 23:38 (BST) |
| 14 Jul 2021 | 04-12-1442 | 02:43 (BST) | 04:57 (BST) | 13:14 (BST) | 17:37 (BST) | 21:31 (BST) | 21:31 (BST) | 23:37 (BST) |
| 15 Jul 2021 | 05-12-1442 | 02:44 (BST) | 04:59 (BST) | 13:14 (BST) | 17:37 (BST) | 21:30 (BST) | 21:30 (BST) | 23:37 (BST) |
| 16 Jul 2021 | 06-12-1442 | 02:44 (BST) | 05:00 (BST) | 13:15 (BST) | 17:36 (BST) | 21:29 (BST) | 21:29 (BST) | 23:36 (BST) |
| 17 Jul 2021 | 07-12-1442 | 02:45 (BST) | 05:01 (BST) | 13:15 (BST) | 17:36 (BST) | 21:27 (BST) | 21:27 (BST) | 23:36 (BST) |
| 18 Jul 2021 | 08-12-1442 | 02:46 (BST) | 05:03 (BST) | 13:15 (BST) | 17:35 (BST) | 21:26 (BST) | 21:26 (BST) | 23:35 (BST) |
| 19 Jul 2021 | 09-12-1442 | 02:46 (BST) | 05:04 (BST) | 13:15 (BST) | 17:35 (BST) | 21:25 (BST) | 21:25 (BST) | 23:35 (BST) |
| 20 Jul 2021 | 10-12-1442 | 02:47 (BST) | 05:05 (BST) | 13:15 (BST) | 17:35 (BST) | 21:23 (BST) | 21:23 (BST) | 23:34 (BST) |
| 21 Jul 2021 | 11-12-1442 | 02:47 (BST) | 05:07 (BST) | 13:15 (BST) | 17:34 (BST) | 21:22 (BST) | 21:22 (BST) | 23:34 (BST) |
| 22 Jul 2021 | 12-12-1442 | 02:48 (BST) | 05:08 (BST) | 13:15 (BST) | 17:34 (BST) | 21:21 (BST) | 21:21 (BST) | 23:33 (BST) |
| 23 Jul 2021 | 13-12-1442 | 02:49 (BST) | 05:10 (BST) | 13:15 (BST) | 17:33 (BST) | 21:19 (BST) | 21:19 (BST) | 23:33 (BST) |
| 24 Jul 2021 | 14-12-1442 | 02:49 (BST) | 05:11 (BST) | 13:15 (BST) | 17:33 (BST) | 21:18 (BST) | 21:18 (BST) | 23:32 (BST) |
| 25 Jul 2021 | 15-12-1442 | 02:50 (BST) | 05:13 (BST) | 13:15 (BST) | 17:32 (BST) | 21:16 (BST) | 21:16 (BST) | 23:31 (BST) |
| 26 Jul 2021 | 16-12-1442 | 02:51 (BST) | 05:15 (BST) | 13:15 (BST) | 17:31 (BST) | 21:15 (BST) | 21:15 (BST) | 23:31 (BST) |
| 27 Jul 2021 | 17-12-1442 | 02:51 (BST) | 05:16 (BST) | 13:15 (BST) | 17:31 (BST) | 21:13 (BST) | 21:13 (BST) | 23:30 (BST) |
| 28 Jul 2021 | 18-12-1442 | 02:52 (BST) | 05:18 (BST) | 13:15 (BST) | 17:30 (BST) | 21:11 (BST) | 21:11 (BST) | 23:29 (BST) |
| 29 Jul 2021 | 19-12-1442 | 02:52 (BST) | 05:19 (BST) | 13:15 (BST) | 17:29 (BST) | 21:10 (BST) | 21:10 (BST) | 23:28 (BST) |
| 30 Jul 2021 | 20-12-1442 | 02:53 (BST) | 05:21 (BST) | 13:15 (BST) | 17:29 (BST) | 21:08 (BST) | 21:08 (BST) | 23:28 (BST) |
| 31 Jul 2021 | 21-12-1442 | 02:54 (BST) | 05:23 (BST) | 13:15 (BST) | 17:28 (BST) | 21:06 (BST) | 21:06 (BST) | 23:27 (BST) |
Local Parliamentary Information
The Local MP for this Masjid is Debbie Abrahams MP for Oldham East and Saddleworth

You Local MP is part of the Labour Party
Your can contact your Local MP on: abrahamsd@parliament.uk, abrahamsd@parliament.uk or telephone them on: 020 7219 1041 Fax: 0207 219 2405, 0161 624 4248