Please enter a valid UK Address:
Chapter: 2 Sura: 166 Verse: (At that time) when those who were followed (- the leaders) shall disown and sever themselves from their followers and they shall see the punishment (with their own eyes) and all t...- Read the Verse/ The Holy Quran

Help Palastine! It takes 5 minutes to contact your MP please CLICK HERE TO CONTACT YOUR MP Now!
---
Al-Birr Community Centre (Thanet, Margate, Kent)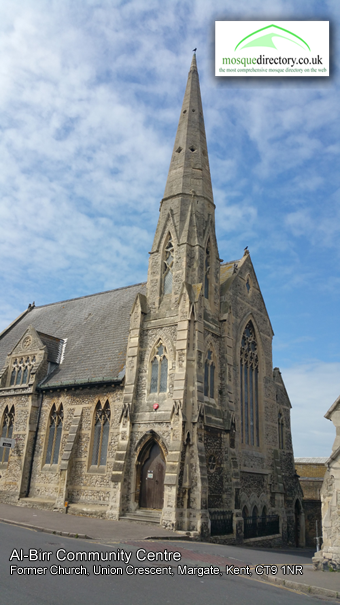 Al-Birr Community Centre
ADDRESS: Former Church, Union Crescent, Margate, Kent, CT9 1NR
TEL: 01843 297476 FAX: none GENDER: Male / Female TYPE: Masjid/Mosque
Data Accuracy: A- Reasonably recent first hand knowledge of the masjid
Information
FOLLOWING : Arabic Mainstream MASJID CAPACITY : 500
Other Masjid Names: Margate Mosque
Video:
See a Video of the Masjid
Photo Gallery
Travel Information
Here you will find the local travel information on how to get to the Masjid/Mosque
List of Railway Stations close to the Masjid/Mosque, within 5 miles radius
| | | |
| --- | --- | --- |
| | Margate Railway Station | Distance: 0.5084 |
Masjid/Mosque Weather Report
Margate Kent UK
2021-09-24 7:35

Temperature
12.5 ℃ (54.5 ℉)
Wind
8.7mph (14kpm) Miles Per Hour
242 Wind Degree
WSW Wind Direction
18.3mph (29.5kpm) Gust Miles Per Hour
Weather Report
Today on September 24, 2021 the tempreture will be 12.5℃ (54.5 ℉), when you go outside the weather will feel like 11.1 ℃ (52 ℉) the wind will be 8.7mph (14kpm) and humidity will be 97
Notes / Additional information
Formally: a Church called "UNION CRESCENT"
Grade: II
Date Listed: 18 October 2010
English Heritage Building ID: 1394721
History:
Margate, one of the first English seaside resorts, flourished in the C19 as a destination favoured by middle-class Londoners, particularly after the establishment of a regular steamer service from London in 1815 and to a lesser extent after the opening of Margate Sands railway station in 1846. The Kent Congregational Association visited Margate in 1843-4 and felt there was a need for a Congregationalist church in the town but deferred aspirations to build one at that time in order to avoid friction with the other denominations present. 
In 1845 a number of members of the Zion Chapel of the Countess of Huntingdon's Connection, located on Victoria Road, left and decided to form a Congregational church which they originally set up in a house on Cecil Street. From here the congregation fitted up the former Bettison's Library on the same street as a chapel but by the late 1850s this was too small and plans were drawn up for a new church on Union Crescent. A drawing of the proposed church was published in The Builder in December 1858. Building started on 23 January 1860 and was completed on 7 September the same year at a cost of £3,400. 

The church was originally designed without a gallery but it was decided that one was necessary for the increased attendance during the summer season in this seaside town. It had also originally been planned to include a Sunday school beneath the church but this plan was dropped when the local council withheld consent unless the floor of the church was raised, which would have proved too costly. A Sunday school (now a Union church) on the east side of Pump Lane was eventually built in 1872 probably also designed by Poulton and Woodman (this is not included in the designation). After the church closed it was converted to a gymnastic club and the interior altered. In 2003 it converted for use as a mosque.

William Ford Poulton (1822-1900) and William Henry Woodman (1822-1879) were prolific Mid-Victorian architects who specialised in Nonconformist churches and also designed the Grade II* designated Wokingham Town Hall.

1 Arabic kutbah followed by 1 English wayiz - Former Church
Masjid Prayer Timetable
In Islam muslims are required to prayer five times a day, each prayer can be measured in units and every prayer comrpomised with different set of units depending on the time of prayer, click here to learn more about how we calculate the prayer times for the masjids
| Date | Hijri | Fajar | Sunrise | Dhuhr | Asr | Sunset | Maghrib | Isha |
| --- | --- | --- | --- | --- | --- | --- | --- | --- |
| 01 Sep 2021 | 23-01-1443 | 04:03 (BST) | 06:07 (BST) | 12:54 (BST) | 16:38 (BST) | 19:40 (BST) | 19:40 (BST) | 21:36 (BST) |
| 02 Sep 2021 | 24-01-1443 | 04:05 (BST) | 06:09 (BST) | 12:54 (BST) | 16:36 (BST) | 19:38 (BST) | 19:38 (BST) | 21:33 (BST) |
| 03 Sep 2021 | 25-01-1443 | 04:08 (BST) | 06:11 (BST) | 12:54 (BST) | 16:35 (BST) | 19:36 (BST) | 19:36 (BST) | 21:30 (BST) |
| 04 Sep 2021 | 26-01-1443 | 04:10 (BST) | 06:12 (BST) | 12:53 (BST) | 16:34 (BST) | 19:34 (BST) | 19:34 (BST) | 21:28 (BST) |
| 05 Sep 2021 | 27-01-1443 | 04:12 (BST) | 06:14 (BST) | 12:53 (BST) | 16:32 (BST) | 19:31 (BST) | 19:31 (BST) | 21:25 (BST) |
| 06 Sep 2021 | 28-01-1443 | 04:14 (BST) | 06:15 (BST) | 12:53 (BST) | 16:31 (BST) | 19:29 (BST) | 19:29 (BST) | 21:22 (BST) |
| 07 Sep 2021 | 29-01-1443 | 04:17 (BST) | 06:17 (BST) | 12:52 (BST) | 16:29 (BST) | 19:27 (BST) | 19:27 (BST) | 21:19 (BST) |
| 08 Sep 2021 | 30-01-1443 | 04:19 (BST) | 06:19 (BST) | 12:52 (BST) | 16:28 (BST) | 19:25 (BST) | 19:25 (BST) | 21:16 (BST) |
| 09 Sep 2021 | 01-02-1443 | 04:21 (BST) | 06:20 (BST) | 12:52 (BST) | 16:26 (BST) | 19:22 (BST) | 19:22 (BST) | 21:14 (BST) |
| 10 Sep 2021 | 02-02-1443 | 04:23 (BST) | 06:22 (BST) | 12:51 (BST) | 16:25 (BST) | 19:20 (BST) | 19:20 (BST) | 21:11 (BST) |
| 11 Sep 2021 | 03-02-1443 | 04:25 (BST) | 06:23 (BST) | 12:51 (BST) | 16:23 (BST) | 19:18 (BST) | 19:18 (BST) | 21:08 (BST) |
| 12 Sep 2021 | 04-02-1443 | 04:27 (BST) | 06:25 (BST) | 12:51 (BST) | 16:22 (BST) | 19:15 (BST) | 19:15 (BST) | 21:05 (BST) |
| 13 Sep 2021 | 05-02-1443 | 04:29 (BST) | 06:26 (BST) | 12:50 (BST) | 16:20 (BST) | 19:13 (BST) | 19:13 (BST) | 21:03 (BST) |
| 14 Sep 2021 | 06-02-1443 | 04:31 (BST) | 06:28 (BST) | 12:50 (BST) | 16:19 (BST) | 19:11 (BST) | 19:11 (BST) | 21:00 (BST) |
| 15 Sep 2021 | 07-02-1443 | 04:33 (BST) | 06:30 (BST) | 12:50 (BST) | 16:17 (BST) | 19:09 (BST) | 19:09 (BST) | 20:57 (BST) |
| 16 Sep 2021 | 08-02-1443 | 04:35 (BST) | 06:31 (BST) | 12:49 (BST) | 16:15 (BST) | 19:06 (BST) | 19:06 (BST) | 20:55 (BST) |
| 17 Sep 2021 | 09-02-1443 | 04:37 (BST) | 06:33 (BST) | 12:49 (BST) | 16:14 (BST) | 19:04 (BST) | 19:04 (BST) | 20:52 (BST) |
| 18 Sep 2021 | 10-02-1443 | 04:39 (BST) | 06:34 (BST) | 12:49 (BST) | 16:12 (BST) | 19:02 (BST) | 19:02 (BST) | 20:49 (BST) |
| 19 Sep 2021 | 11-02-1443 | 04:41 (BST) | 06:36 (BST) | 12:48 (BST) | 16:11 (BST) | 18:59 (BST) | 18:59 (BST) | 20:47 (BST) |
| 20 Sep 2021 | 12-02-1443 | 04:43 (BST) | 06:38 (BST) | 12:48 (BST) | 16:09 (BST) | 18:57 (BST) | 18:57 (BST) | 20:44 (BST) |
| 21 Sep 2021 | 13-02-1443 | 04:45 (BST) | 06:39 (BST) | 12:47 (BST) | 16:07 (BST) | 18:55 (BST) | 18:55 (BST) | 20:41 (BST) |
| 22 Sep 2021 | 14-02-1443 | 04:47 (BST) | 06:41 (BST) | 12:47 (BST) | 16:06 (BST) | 18:52 (BST) | 18:52 (BST) | 20:39 (BST) |
| 23 Sep 2021 | 15-02-1443 | 04:49 (BST) | 06:42 (BST) | 12:47 (BST) | 16:04 (BST) | 18:50 (BST) | 18:50 (BST) | 20:36 (BST) |
| 24 Sep 2021 | 16-02-1443 | 04:51 (BST) | 06:44 (BST) | 12:46 (BST) | 16:03 (BST) | 18:48 (BST) | 18:48 (BST) | 20:34 (BST) |
| 25 Sep 2021 | 17-02-1443 | 04:53 (BST) | 06:46 (BST) | 12:46 (BST) | 16:01 (BST) | 18:46 (BST) | 18:46 (BST) | 20:31 (BST) |
| 26 Sep 2021 | 18-02-1443 | 04:55 (BST) | 06:47 (BST) | 12:46 (BST) | 15:59 (BST) | 18:43 (BST) | 18:43 (BST) | 20:29 (BST) |
| 27 Sep 2021 | 19-02-1443 | 04:56 (BST) | 06:49 (BST) | 12:45 (BST) | 15:58 (BST) | 18:41 (BST) | 18:41 (BST) | 20:26 (BST) |
| 28 Sep 2021 | 20-02-1443 | 04:58 (BST) | 06:50 (BST) | 12:45 (BST) | 15:56 (BST) | 18:39 (BST) | 18:39 (BST) | 20:24 (BST) |
| 29 Sep 2021 | 21-02-1443 | 05:00 (BST) | 06:52 (BST) | 12:45 (BST) | 15:54 (BST) | 18:36 (BST) | 18:36 (BST) | 20:21 (BST) |
| 30 Sep 2021 | 22-02-1443 | 05:02 (BST) | 06:54 (BST) | 12:44 (BST) | 15:53 (BST) | 18:34 (BST) | 18:34 (BST) | 20:19 (BST) |
Local Parliamentary Information
The Local MP for this Masjid is Rt Hon Sir Roger Gale MP for North Thanet

You Local MP is part of the Conservative Party
Your can contact your Local MP on: suzy@galemail.com, galerj@parliament.uk or telephone them on: 01843 848588, 020 7219 4087