Please enter a valid UK Address:
Chapter: 2 Sura: 84 Verse: And (recall) when We took a covenant from you, `You shall not shed each other's blood and you shall not expel your people from your homes.' Then you confirmed it (promising to abid...- Read the Verse/ The Holy Quran
---
Masjid Al Ikhlas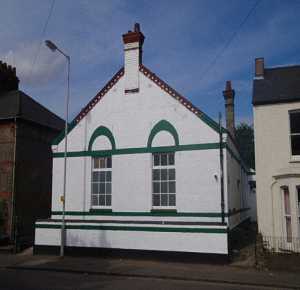 Masjid Al Ikhlas
ADDRESS: 4 Devonshire Road, Petersfield, Cambridge, Cambridgeshire, CB1 2BH
TEL: 0845 612 3353 GENDER: Male / Female TYPE: Masjid/Mosque
Data Accuracy: B- Well known masjid with plenty of corroborating data
Information
FOLLOWING : Sunni - Salafi MASJID CAPACITY : 500
Other Masjid Names: Cambridge Islamic Centre, Cambridge Muslim Trust
View Charity No: 1125964
Travel Information
Here you will find the local travel information on how to get to the Masjid/Mosque
List of Railway Stations close to the Masjid/Mosque, within 5 miles radius
| | | |
| --- | --- | --- |
| | Camborne Railway Station | Distance: 0.3281 |
| | Shelford Railway Station | Distance: 0.8689 |
| | Whittlesford Parkway Railway Station | Distance: 0.8689 |
Maps
Notes / Additional information
Masjid Al Ikhlas & Cambridge Islamic Centre is the result of the a local community project to provide essential services to the local Muslim and wider community, and to compliment the existing mosque.
in consultation with the Muslim Community and with local service providers, such as social services, City Council, Education and Health services, Key services to be offered were: Janazah services; talks; Women's' groups; youth groups; social space; Coffee bar; special interest groups; Jummuah prayer etc.
In 2008 the search was on for a building with suitable features to use as a base and a facility to provide these services. Alhamdulillah, the property at 4 Devonshire Road became available and was attractive for it's existing public worship building class, it's versatility and suitability to be altered or improved, it's easy transport links (with the Cambridge Rail station within 5 mins walk) and it's cost in relation to similar buildings.
The CAMBRIDGE MUSLIM TRUST was formed as a Chartiy organisation to facilitate the purchase of the building.
Alhamdulillah, by Allah's grace the community pulled together to purchase the building and the keys were handed over in November 2008.
Masjid Prayer Timetable
In Islam muslims are required to prayer five times a day, each prayer can be measured in units and every prayer comrpomised with different set of units depending on the time of prayer, click here to learn more about how we calculate the prayer times for the masjids
| Date | Hijri | Fajar | Sunrise | Dhuhr | Asr | Sunset | Maghrib | Isha |
| --- | --- | --- | --- | --- | --- | --- | --- | --- |
| 01 Jan 2021 | 17-05-1442 | 06:03 (GMT) | 08:09 (GMT) | 12:03 (GMT) | 13:41 (GMT) | 15:58 (GMT) | 15:58 (GMT) | 17:57 (GMT) |
| 02 Jan 2021 | 18-05-1442 | 06:03 (GMT) | 08:08 (GMT) | 12:04 (GMT) | 13:42 (GMT) | 15:59 (GMT) | 15:59 (GMT) | 17:58 (GMT) |
| 03 Jan 2021 | 19-05-1442 | 06:03 (GMT) | 08:08 (GMT) | 12:04 (GMT) | 13:43 (GMT) | 16:00 (GMT) | 16:00 (GMT) | 17:59 (GMT) |
| 04 Jan 2021 | 20-05-1442 | 06:03 (GMT) | 08:08 (GMT) | 12:05 (GMT) | 13:44 (GMT) | 16:01 (GMT) | 16:01 (GMT) | 18:00 (GMT) |
| 05 Jan 2021 | 21-05-1442 | 06:03 (GMT) | 08:08 (GMT) | 12:05 (GMT) | 13:45 (GMT) | 16:03 (GMT) | 16:03 (GMT) | 18:01 (GMT) |
| 06 Jan 2021 | 22-05-1442 | 06:02 (GMT) | 08:07 (GMT) | 12:05 (GMT) | 13:46 (GMT) | 16:04 (GMT) | 16:04 (GMT) | 18:02 (GMT) |
| 07 Jan 2021 | 23-05-1442 | 06:02 (GMT) | 08:07 (GMT) | 12:06 (GMT) | 13:47 (GMT) | 16:05 (GMT) | 16:05 (GMT) | 18:03 (GMT) |
| 08 Jan 2021 | 24-05-1442 | 06:02 (GMT) | 08:06 (GMT) | 12:06 (GMT) | 13:48 (GMT) | 16:07 (GMT) | 16:07 (GMT) | 18:04 (GMT) |
| 09 Jan 2021 | 25-05-1442 | 06:02 (GMT) | 08:06 (GMT) | 12:07 (GMT) | 13:49 (GMT) | 16:08 (GMT) | 16:08 (GMT) | 18:05 (GMT) |
| 10 Jan 2021 | 26-05-1442 | 06:01 (GMT) | 08:05 (GMT) | 12:07 (GMT) | 13:50 (GMT) | 16:10 (GMT) | 16:10 (GMT) | 18:07 (GMT) |
| 11 Jan 2021 | 27-05-1442 | 06:01 (GMT) | 08:04 (GMT) | 12:07 (GMT) | 13:52 (GMT) | 16:11 (GMT) | 16:11 (GMT) | 18:08 (GMT) |
| 12 Jan 2021 | 28-05-1442 | 06:00 (GMT) | 08:04 (GMT) | 12:08 (GMT) | 13:53 (GMT) | 16:12 (GMT) | 16:12 (GMT) | 18:09 (GMT) |
| 13 Jan 2021 | 29-05-1442 | 06:00 (GMT) | 08:03 (GMT) | 12:08 (GMT) | 13:54 (GMT) | 16:14 (GMT) | 16:14 (GMT) | 18:10 (GMT) |
| 14 Jan 2021 | 30-05-1442 | 05:59 (GMT) | 08:02 (GMT) | 12:09 (GMT) | 13:55 (GMT) | 16:16 (GMT) | 16:16 (GMT) | 18:12 (GMT) |
| 15 Jan 2021 | 01-06-1442 | 05:59 (GMT) | 08:01 (GMT) | 12:09 (GMT) | 13:57 (GMT) | 16:17 (GMT) | 16:17 (GMT) | 18:13 (GMT) |
| 16 Jan 2021 | 02-06-1442 | 05:58 (GMT) | 08:00 (GMT) | 12:09 (GMT) | 13:58 (GMT) | 16:19 (GMT) | 16:19 (GMT) | 18:14 (GMT) |
| 17 Jan 2021 | 03-06-1442 | 05:58 (GMT) | 07:59 (GMT) | 12:10 (GMT) | 13:59 (GMT) | 16:20 (GMT) | 16:20 (GMT) | 18:15 (GMT) |
| 18 Jan 2021 | 04-06-1442 | 05:57 (GMT) | 07:58 (GMT) | 12:10 (GMT) | 14:01 (GMT) | 16:22 (GMT) | 16:22 (GMT) | 18:17 (GMT) |
| 19 Jan 2021 | 05-06-1442 | 05:56 (GMT) | 07:57 (GMT) | 12:10 (GMT) | 14:02 (GMT) | 16:24 (GMT) | 16:24 (GMT) | 18:18 (GMT) |
| 20 Jan 2021 | 06-06-1442 | 05:55 (GMT) | 07:56 (GMT) | 12:11 (GMT) | 14:03 (GMT) | 16:25 (GMT) | 16:25 (GMT) | 18:20 (GMT) |
| 21 Jan 2021 | 07-06-1442 | 05:55 (GMT) | 07:55 (GMT) | 12:11 (GMT) | 14:05 (GMT) | 16:27 (GMT) | 16:27 (GMT) | 18:21 (GMT) |
| 22 Jan 2021 | 08-06-1442 | 05:54 (GMT) | 07:54 (GMT) | 12:11 (GMT) | 14:06 (GMT) | 16:29 (GMT) | 16:29 (GMT) | 18:23 (GMT) |
| 23 Jan 2021 | 09-06-1442 | 05:53 (GMT) | 07:53 (GMT) | 12:11 (GMT) | 14:08 (GMT) | 16:31 (GMT) | 16:31 (GMT) | 18:24 (GMT) |
| 24 Jan 2021 | 10-06-1442 | 05:52 (GMT) | 07:51 (GMT) | 12:12 (GMT) | 14:09 (GMT) | 16:32 (GMT) | 16:32 (GMT) | 18:25 (GMT) |
| 25 Jan 2021 | 11-06-1442 | 05:51 (GMT) | 07:50 (GMT) | 12:12 (GMT) | 14:10 (GMT) | 16:34 (GMT) | 16:34 (GMT) | 18:27 (GMT) |
| 26 Jan 2021 | 12-06-1442 | 05:50 (GMT) | 07:49 (GMT) | 12:12 (GMT) | 14:12 (GMT) | 16:36 (GMT) | 16:36 (GMT) | 18:28 (GMT) |
| 27 Jan 2021 | 13-06-1442 | 05:49 (GMT) | 07:47 (GMT) | 12:12 (GMT) | 14:13 (GMT) | 16:38 (GMT) | 16:38 (GMT) | 18:30 (GMT) |
| 28 Jan 2021 | 14-06-1442 | 05:48 (GMT) | 07:46 (GMT) | 12:12 (GMT) | 14:15 (GMT) | 16:40 (GMT) | 16:40 (GMT) | 18:31 (GMT) |
| 29 Jan 2021 | 15-06-1442 | 05:46 (GMT) | 07:44 (GMT) | 12:13 (GMT) | 14:16 (GMT) | 16:42 (GMT) | 16:42 (GMT) | 18:33 (GMT) |
| 30 Jan 2021 | 16-06-1442 | 05:45 (GMT) | 07:43 (GMT) | 12:13 (GMT) | 14:18 (GMT) | 16:43 (GMT) | 16:43 (GMT) | 18:35 (GMT) |
| 31 Jan 2021 | 17-06-1442 | 05:44 (GMT) | 07:41 (GMT) | 12:13 (GMT) | 14:19 (GMT) | 16:45 (GMT) | 16:45 (GMT) | 18:36 (GMT) |