Please enter a valid UK Address:
Chapter: 25 Sura: 37 Verse: And (We destroyed) the people of Noah (too), when they treated (Our) Messengers as liars, We drowned them and made them a sign (to learn a lesson from) for mankind. Indeed We have ...- Read the Verse/ The Holy Quran

Help Palastine! It takes 5 minutes to contact your MP please CLICK HERE TO CONTACT YOUR MP Now!
Masjids/Mosques in Westgate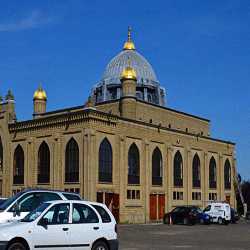 Jamiyat Tabligh-ul-Islam Mosque
ADDRESS: 9 Darfield Street, Westgate, Bradford, West Yorkshire, BD1 3RU
TEL: 01274 732958, 01274 742929 TYPE: Masjid/Mosque
Data Accuracy: A- Reasonably recent first hand knowledge of the masjid
---