Please enter a valid UK Address:
Chapter: 2 Sura: 155 Verse: And We will certainly reward you after disciplining you with something of fear and hunger and some loss of substance and of lives and of fruits (of your toils). Give good tidings t...- Read the Verse/ The Holy Quran

Help Palastine! It takes 5 minutes to contact your MP please CLICK HERE TO CONTACT YOUR MP Now!
Mauldeth Road Rail Station
Masjids/Mosques in Mauldeth Road Rail Station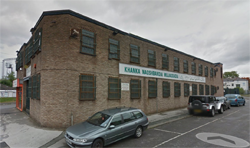 Khanqah Naqshbandia Mujaddidia
ADDRESS: 181a Mauldeth Road, Burnage, Manchester, Greater Manchester, M19 1BA
TEL: 0161 257 2424 TYPE: Masjid/Mosque
Data Accuracy: A- Reasonably recent first hand knowledge of the masjid
---