Please enter a valid UK Address:
Chapter: 2 Sura: 12 Verse: Beware! they alone are the peace breakers, but they do not perceive (its evil consequences)....- Read the Verse/ The Holy Quran

Help Palastine! It takes 5 minutes to contact your MP please CLICK HERE TO CONTACT YOUR MP Now!
Masjids/Mosques in Manchester University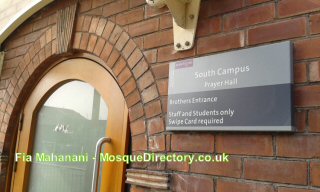 Ambrose Prayer Hall
ADDRESS: McDougall Centre, Manchester University, Burlington Street, Oxford Road (between Precinct Centre & Manchester Museum), Manchester, Greater Manchester, M15 6HQ
TEL: 07747 872256, 07967 008936 TYPE: Multi Faith/Prayer Room/Hired Hall
Data Accuracy: A- Reasonably recent first hand knowledge of the masjid
---