Please enter a valid UK Address:
Chapter: 3 Sura: 50 Verse: And (I come) confirming that which is before me, namely the Torah, and that I declare lawful for you some of the things that had been forbidden to you. I come to you with a sign fr...- Read the Verse/ The Holy Quran

Help Palastine! It takes 5 minutes to contact your MP please CLICK HERE TO CONTACT YOUR MP Now!
Masjids/Mosques in Kingswood Park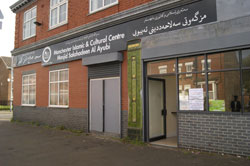 Salahadeen Al Ayubi Mosque
ADDRESS: 61-63 Ladybarn Lane, Fallowfield, Manchester , M14 6YL
TEL: 0161 257 2777 TYPE: Masjid/Mosque
Data Accuracy: A- Reasonably recent first hand knowledge of the masjid
---